Tiny Gold ETF Wages Fee War to Reap 10-Fold Surge in Assets
(Bloomberg) -- This year's slump in gold prices is boosting the appeal of an exchange-traded fund that has been waging a fee war against its giant rivals.
GraniteShares Gold Trust, which trades under the ticker BAR, had struggled to gain investor attention, even with an expense ratio that's just half that of SPDR Gold Shares, the largest ETF backed by the metal. BAR's assets had mostly held below $15 million from the time it listed in August until last week, when it attracted about $145 million in a span of two days, said Will Rhind, the company's chief executive officer.
Money poured into GraniteShares last week as prices of the metal fell for a second straight month, prompting gold buyers to look more closely at lower-cost funds. The price drop helped investors who had expressed interest earlier get over their skittishness about investing in a new ETF, Rhind said. Even with last week's surge, the fund's total assets represent just a small fraction of the $35 billion invested in SPDR Gold and the $12 billion iShares Gold Trust.
"The gold price drop really helped us," Rhind said in a telephone interview Monday. "Now we've reached the tipping point."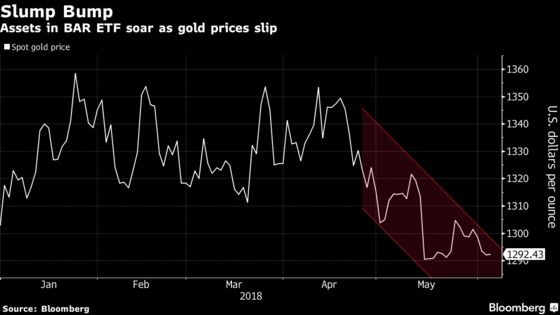 The expense ratio for GraniteShares is 20 basis points, compared with the median of 48 basis points for the more than 200 precious-metals funds tracked by Bloomberg.
George Milling-Stanley, head of gold strategy at State Street Global Advisors, the distributor for SPDR, said that expense ratios are only one cost consideration in ETF investing. Holdings in SPDR Gold, which trades under the ticker GLD, fell for a fifth straight week last week.
"I'm guessing they made their decision based on a focus on the expense ratio as if that were the only cost associated with investing in an ETF," he said in an email. "There will always be investors prepared to ignore the very real financial advantages offered by deep and liquid vehicles such as GLD in terms of trading efficiencies, low entry and exit costs, and the potential use of options to generate income from an asset that does not carry a coupon or pay a dividend."
Investors last week also piled into European ETFs, pouring over $200 million each in Xtrackers Physical Gold ETC and Xetra-Gold, according to data compiled by Bloomberg. Other funds that attracted more than $100 million last week are UBS ETF (CH) - Gold and Invesco Physical Gold ETC, data show.
Gold for immediate delivery has slipped about 0.8 percent this year.