Shortest Euro-Area Crisis Ever? Italian Risk Melts From Market
(Bloomberg) -- As Giuseppe Conte prepares to take the reins in Italy and macro-strategists fret the meaning of last week's blowout in markets, the latest asset prices are signaling the worst of the panic is over.
Only a week ago Italian bonds were in the throes of an unprecedented selloff, fueling a global dash to safe-haven assets as investors questioned the very survival of the euro and the likes of George Soros warned of impending doom. But while Italy braces for the first populist government in its history, sentiment appears to be turning upbeat as months of political gridlock end.
"The formation of the new Italian government has provided some relief to markets," UBS Group AG strategists including Norbert Aul wrote in a note on Tuesday. Still, "the ability of this new, inexperienced administration to govern as well as their fiscal and Europe-specific plans will face market scrutiny," they said.
Here are five metrics to gauge fear -- or lack of it -- in the periphery and beyond: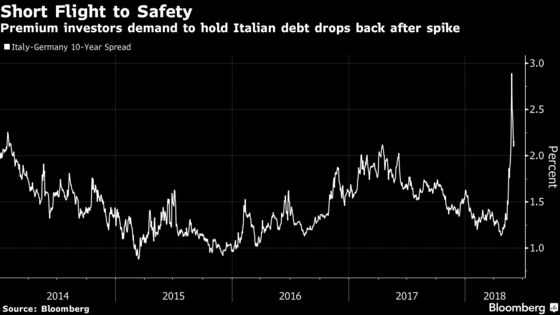 The best gauge of risk in any European bond market is a comparison with yields of Germany, the continent's safest country to lend money to. Before the recent political flare-up, Italy was paying a premium of just over 1 percentage point compared to Germany to borrow in euros for 10 years. That gap -- which almost tripled last week -- has dropped back to around 2.2 percentage points.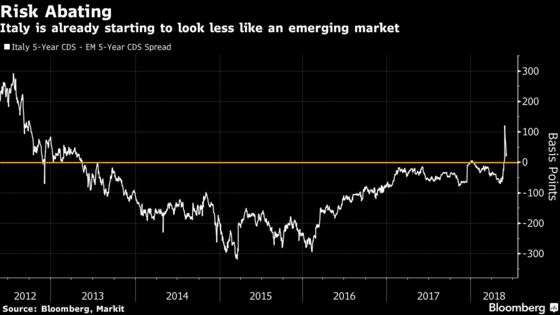 The other extreme is to compare Italy with bond markets that are supposedly less-safe, if conventional perceptions based on credit ratings and the like are anything to go by. In that light, Italy is looking better by the day. A week ago, default risk insurance on Italy cost more than on a basket of 14 developing-nation sovereigns, according to derivatives indexes. Now that gap is getting close to zero.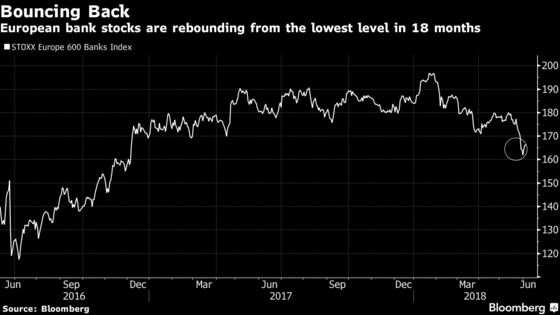 With Italian populists calling for a review of the bailout of troubled lender Banca Monte dei Paschi di Siena SpA, the political upheaval left banks looking particularly vulnerable. Italy has the fifth-biggest country weighting in the STOXX 600 Banks Index, contributing just over 8 percent. Still, the index has rebounded this week after hitting the lowest level in 18 months.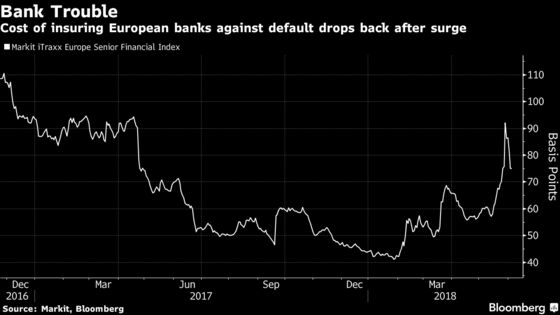 In the swaps market, spreads on European banks have already erased all of the premium added in last week's sell-off. That's good news for primary issuers, whose borrowing costs were pushed up in the turmoil.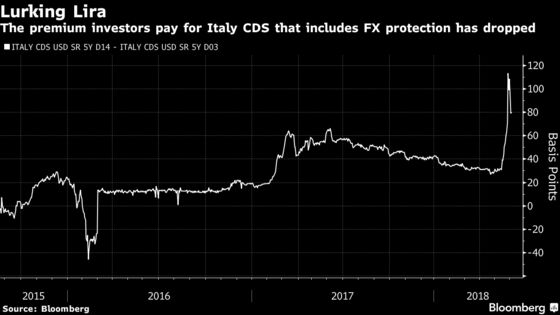 A worst-case scenario of the Italian populist revival is that Italy will leave the euro area. While few see it as likely, the risk had started to creep into CDS pricing last week. After retracing some of its surge, the cost to buy contracts that offer protection against redenomination of Italian debt into a national currency now stands at around 80 basis points, more than double where it was a month ago.