Qatar's Year of Solitude: A Gulf Embargo's Impact in Six Charts
(Bloomberg) -- It's been a year since shocked investors sold off Qatari assets after a Saudi Arabia-led group of nations severed economic and diplomatic ties with the gas-rich country.
While the standoff shows no sign of ending, pressure on Qatari assets has eased. Bets against the nation's long-held dollar peg have subsided and the government managed this year's largest sovereign bond sale in the Middle East and Africa. Shares in Qatar's biggest lender are higher than they were 12 months ago.
Qatar's stock market "has been buoyed by very strong demand from foreign investors, with net buying in excess of $600 million," said Akber Khan, senior director of asset management at Al Rayan Investment in Doha. "Oil is now averaging more than $70 and, while there are areas of economic weakness, a number of post-blockade initiatives are starting to bear fruit and certain companies are likely to see an acceleration in growth."
Here are some charts illustrating how Qatari assets performed since the embargo began on June 5, 2017:
Doha's benchmark index hasn't fully recovered, but has clawed its way back from November's seven-year low. The gauge fell the most in almost a decade the day the embargo was announced and remains 8 percent lower, compared with an increase of 12 percent in the MSCI Emerging Markets Index.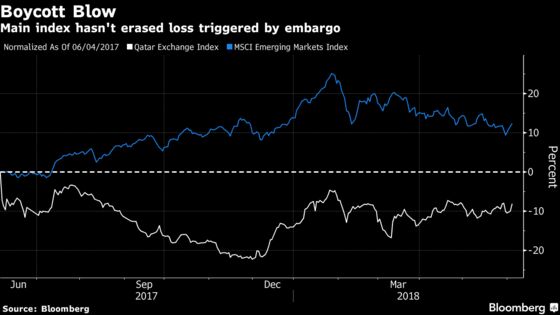 An exception is Qatar National Bank QPSC. The biggest lender in the Middle East by assets and market value has surged this year, thanks to a decision to increase the limit on foreign ownership to 49 percent. That opened room for the bank, which accounts for 17 percent of Qatar's stocks benchmark, to win a larger weighting in emerging-market indexes set by MSCI Inc. and FTSE Russell. EFG-Hermes Holding estimated potential flows to the stock of more than $900 million as a result.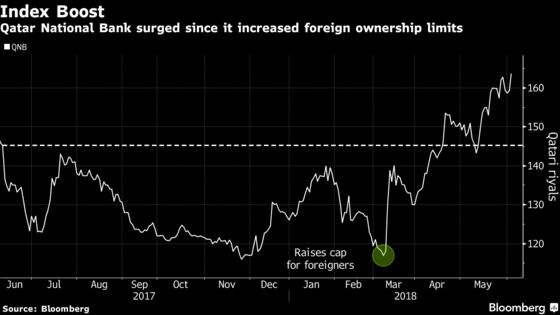 Foreign stock holders from the Gulf Cooperation Council and beyond drove the selloff in June 2017. While foreigners were net buyers in most sessions in the past month, GCC investors haven't stopped selling.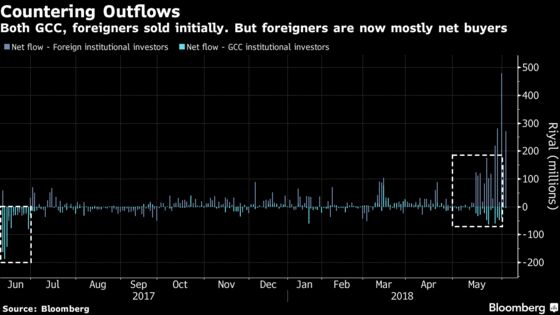 While yields on the country's $2 billion of bonds due 2046 spiked, they have risen less than the average among Middle Eastern sovereigns in the past year, according to data compiled by JPMorgan Chase & Co. The cost of insuring against a default by Qatar has fallen 30 basis points from their July peak.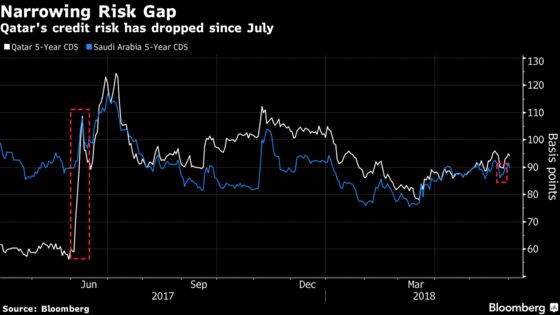 Some investors have started to view Qatari bonds as an attractive bet, yielding more than countries with a much weaker credit profile. S&P Global Ratings cut Qatar to the fourth-highest investment grade in the days after the embargo started and said the boycott "could put pressure on economic growth and fiscal metrics."
In April, Qatar sold dollar bonds for the first time since the embargo began, raising $12 billion and surpassing the $11 billion deal by Saudi Arabia in the same week.
Qatar has this year introduced the Middle East's two largest exchange-traded funds. Amwal LLC started the first Qatari ETF, tracking the country's main stock gauge, followed by Masraf Al Rayan's Shariah-compliant tracker, the biggest ETF in the region.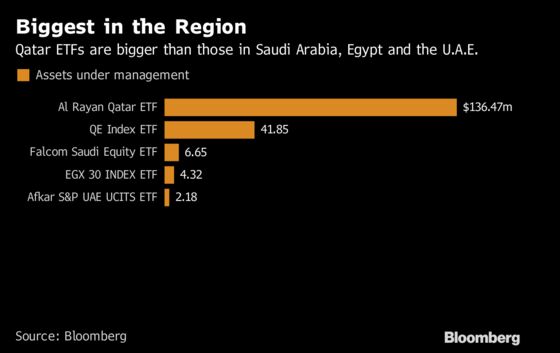 Qatar's currency peg of 3.64 riyals to the dollar, while honored inside the country and for what the central bank deemed legitimate transactions, came under pressure in a parallel, so-called offshore market. The riyal's increasingly depreciating alternative rate prompted MSCI in November to signal it may use the weaker conversion to calculate its stock gauges. That forced Qatar's central bank to issue an explicit guarantee to honor the peg for all investors.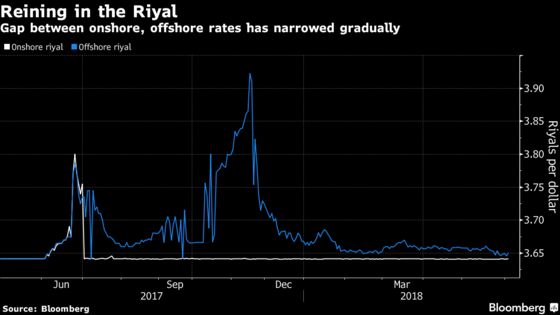 The peg is holding, and the spread between riyal onshore and offshore rates has narrowed.
A year after the embargo, confidence has returned to the Qatari market, said Rami Jamal, a portfolio manager at Amwal in Doha. Asset prices are rising, thanks to "extremely attractive valuations that were last seen in 2010."