Macau Casinos Drop for 4th Day on China Crackdown Concerns
(Bloomberg) -- Macau casino shares declined for a fourth straight day as speculation over a renewed clampdown on capital outflows by China added to concerns of a slowdown in gaming revenue growth.
Investors are assessing the risks to Macau's gaming industry after banks withdrew some cash-back machines from pawnshops and jewelry shops inside casinos in recent days. The government in the past has imposed restrictions on the use of such machines in an effort to control the flow of currency out of China. The machines are a popular source of cash for casual gamblers in Macau.
Goldman Sachs analysts led by Simon Cheung said the move appears to have had a limited impact on Macau gaming revenue over the past few days, and further declines in casino stocks could present a buying opportunity. JPMorgan Chase & Co. analyst DS Kim wrote that "investors may want to wait-and-see how the situation pans out" before buying on dips.
An index of Macau casino operators slid as much as 3 percent on Wednesday before paring losses, with MGM China Holdings Ltd. falling as much as 4.4 percent. The gauge has dropped about 6 percent since data showed casino revenue growth in the world's largest gambling hub fell short of estimates for May. Forecasts call for a further slowdown this month.
Shares in the U.S. have also come under pressure, with Melco Resorts & Entertainment Ltd. losing 4.6 percent and MGM Resorts International down 2.2 percent in Tuesday trading.
Industrial and Commercial Bank of China (Macau) Ltd. said in an emailed statement Wednesday the bank took action to remove non-compliant machines. Checks of so-called POS systems are routine, it said, and the proportion of shops affected during the inspection is similar to past years.
The Macau Monetary Authority said Wednesday evening that any financial services to the public by any individuals or shops other than banks, Caixa Economica Postal, money changers and remittance companies constitutes a "legal violation." In 2015, the regulator issued a release that it had requested Macau banks to enhance monitoring of merchants in an effort to combat illegal cross-border financial activities and money laundering.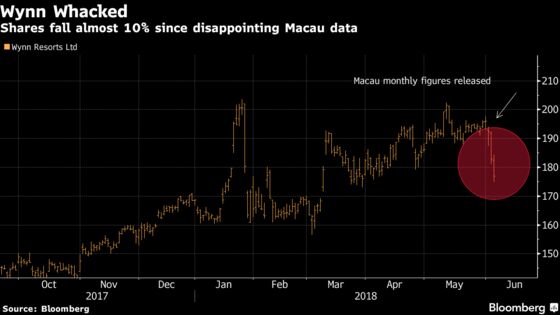 The uncertainty over China's central bank policies adds another risk to a two-year rally in Macau casino stocks. Another factor that could weigh on the sector: the World Cup.
Wynn Resorts Ltd. tumbled 5 percent on Monday after Deutsche Bank AG, a long-term bull, trimmed second-quarter estimates on the company, with analyst Carlo Santarelli suggesting this year's World Cup "could cause some VIP softness in June" for the junket operators who bring players to the Asian gambling enclave. Morgan Stanley analysts also cited World Cup concerns as a reason for potential near-term volatility.