Inflation Bogeyman Prompts Fuel Subsidies Across Southeast Asia
(Bloomberg) -- Oil-fired inflation that threatens to shoot ever higher is prompting governments across Southeast Asia to give some relief to pinched consumers.
From fuel subsidies to tax incentives, governments are exploring ways to put a lid on rising prices -- for fear that consumers will revolt at the ballot box, or pull back on spending. Central banks in Malaysia, Indonesia and the Philippines have already raised interest rates this year to fight inflation and stabilize currencies as the U.S. tightens monetary policy.
Elections loom in Thailand and Indonesia, and a new government in Malaysia is trying to boost support. Vietnam and the Philippines, too, are undertaking measures to control inflation across industries.
"Oil prices are 50 percent higher than a year ago and in many countries in the region, core inflation is on the rise," said Tamara Henderson, an economist at Bloomberg Economics in Singapore. "Consumption may be hampered in 2018 by weaker spending power, although government measures to support disposable incomes may contain the damage."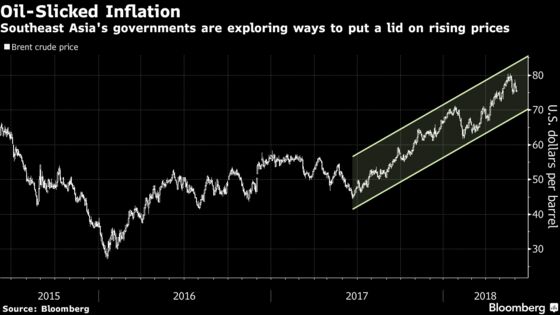 Here's what countries across Southeast Asia are doing to tame prices:
2018 target inflation range: 2.5% to 4.5%
Current CPI (YoY): 3.23%
The government has said it will freeze power and fuel prices until next year and wants to regulate more of them in order to keep a lid on inflation. So far, price-growth has been subdued, and actually eased in May, though there are mounting risks, especially from rising food costs and a weaker currency.
Government pledges to help control fuel and electricity prices should help President Joko Widodo control stresses around nationalism, race and religion ahead of elections in 2019, according to Bob Herrera-Lim, managing director at Teneo Intelligence. Finance Minister Sri Mulyani Indrawati is also talking about tax incentives to provide relief.
Aside from inflation, the gaping current-account deficit and the economy's status as a net oil importer make Indonesia especially sensitive to strengthening oil prices. The government has already downgraded growth forecasts for the year and turned its focus to stability.
The central bank raised interest rates twice in May to support the currency, which is down 2.2 percent against the dollar this year.
2018 target inflation range: [none]
Current CPI (YoY): 1.4%
Reintroducing fuel subsidies was a key campaign pledge of newly elected Prime Minister Mahathir Mohamad. The move will help to keep inflation under control along with other election promises, such as scrapping a 6 percent goods-and-services tax, which the government followed through with from June.
As a rare net energy exporter in Asia, Malaysia is under less pressure from higher oil costs than others in the region. The currency has also fared better than others in the region, gaining 1.9 percent against the dollar this year. That's giving households a boost for now, until the government brings back a sales tax to replace GST later this year.
2018 target inflation range: 2% to 4%
Current CPI (YoY): 4.6%
The Philippines has the fastest inflation among the six biggest Southeast Asian economies with price growth at a five-year high. Higher oil prices are threatening an economy that relies almost entirely on imports for fuel and signs of bubbling prices are all around: Labor groups are demanding higher wages, bus and other transport operators are calling for fare increases, and airlines are seeking to mark up tickets.
Some lawmakers are calling for an overturn of tax changes that took effect in January and that boosted levies on oil products. The changes were meant to help fund an ambitious infrastructure program but are burdening consumers.
The central bank has come under fire for being too slow with policy tightening, though a first-in-four-years interest-rate hike last month could be followed by more this year as the currency weakens.
2018 target inflation range: 1% to 4%
Current CPI (YoY): 1.49%
While inflation in Thailand is low compared to others, the government hasn't been spared from public pressure.
Most recently it's come from a social media campaign that helped push the country's military government to roll out fuel subsidies for diesel and cooking gas. More grassroots pressure will likely follow as Thailand nears its long-delayed elections due in 2019.
The Bank of Thailand has been fending off interest-rate increases, but the strong relationship between global crude prices and inflation is a sign that they may soon have to tackle the first hike since 2011.
2018 target inflation range: under 4%
Current CPI (YoY): 3.86%
Vietnam has pursued several different efforts to keep prices under control, particularly with the costs of items such as retail cooking gas on the rise and inflation nudging against the target ceiling.
Prime Minister Nguyen Xuan Phuc's government is using money from the petroleum-price-stabilization fund to curb fuel prices. He's also instructed ministries not to increase electricity prices this year. The government also ordered discounts in health-care services beginning July 15.