Hedge-Fund Diners Said to Talk Short-Selling as Bonds Turn
(Bloomberg) -- When a group of London hedge-fund managers gathered last month for a quarterly working dinner hosted by corporate-intelligence firm Third Bridge, the discussion struck a tone they hadn't heard in years.
Where previous gatherings had focused on which bonds were worth buying, this time guests were asked to suggest those likely to fall in value, people familiar with the matter said, asking not to be identified because the meeting was private. A representative for Third Bridge declined to comment on the event.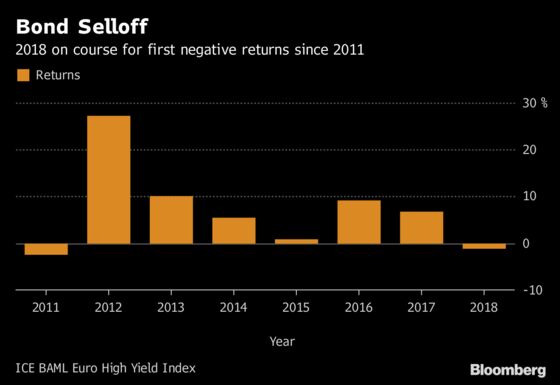 Junk bonds are falling out of favor amid plans by the European Central Bank to wind down the asset-purchase program that's buoyed credit markets since 2016. The signs of a downward turn are already evident in the new-issue market. While riskier companies have sold $58 billion of euro- and sterling-denominated bonds this year, the busiest start since 2015, just $6 billion of new notes were minted in May, according to data compiled by Bloomberg.
"We have all made money being long. Now we have to plan to make money when the market goes down," said Prashant Agarwal, a high-yield portfolio manager at Pictet Asset Management SA, who wasn't at the Third Bridge dinner. "Making the mental switch can be tough."
At least four junk-rated European companies have canceled debt sales this year. On May 17, the day after Third Bridge's dinner, a Greek property firm postponed its debut bond sale. The following week Ithaca Energy Inc., a U.K.-headquartered oil company, pulled a dollar-denominated bond sale despite offering a more than 9-percent coupon.
Travelodge Hotels Ltd., the U.K.'s second-largest hotel chain, and Marseille-based CMA CGM SA, the world's third-biggest container line, were among the companies proposed for short bets at the Third Bridge event, the people familiar with the matter said. A spokeswoman at Travelodge declined to comment on the recommendation and CMA didn't respond to a request for comment.
CMA's 750 million euros ($879 million) of 5.25 percent bonds fell to a record low 86 cents last week after first-quarter earnings showed it's struggling to pass on rising fuel prices. Travelodge's 8.5 percent notes have fallen this year and the 553-branch hotel chain said demand cooled at the start of 2018 and could weaken further as the U.K. exits the European Union.
Fallout from the political crisis in Italy has now presented investors with more shorting opportunities as the country's corporations make up one fifth of the European junk bond market.
Italian notes that led the selloff include those issued by state-owned Banca Monte dei Paschi di Siena SpA, phone carrier Wind Tre SpA, cleaning contractor Manutencoop Facility Management SpA, constructor Astaldi SpA and ferry operator Moby SpA.
European high-yield securities have this year posted their worst performance since 2002, losing investors 1 percent so far this year, according to the ICE Bank of America Merrill Lynch Euro High Yield index. The last time full-year returns were negative was in 2011.
Managers have long expected a high-yield bond market turn, if fund flow figures are to be believed. Investors withdrew money from European junk bond funds every week for six months, according to EPFR Global data to late April.
The market is starting to price in higher future default rates, according to David Newman, head of global high yield at Allianz Global Investors.
 
"In a world of undisciplined inflows, there's always going to be someone to buy -- not in a world of outflows," he said. "People think about preparing for the downturn even if they don't know when it's coming."