Wall Street Leads Chorus to Get Back in Emerging-Market Game
(Bloomberg) -- This year won't see a re-run of nightmare on EM street.
That's the growing message from Wall Street, at least three of whose leading banks have been singing the praises of emerging markets, as well as more than a few money managers. And now, a former central banker has joined the chorus.
Goldman Sachs Group Inc. says fundamentals in developing economies are mostly intact in the wake of the recent stress test from higher U.S. interest rates, a rally in the dollar and jump in oil prices. Morgan Stanley concurs, highlighting that real interest rates are higher, inflation is lower and current-account balances better in most major emerging markets than in 2013, with the exception of Turkey and Argentina. Citigroup Inc. also considers them better equipped to ride through bouts of volatility.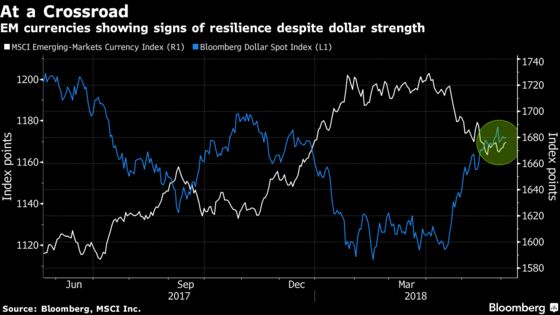 "We don't have the significant external imbalance in EM that we used to," Johanna Chua, Hong Kong-based chief economist for Asia Pacific at Citigroup, told Bloomberg Television's Yvonne Man and Ramy Inocencio. "The shocks have not really been as bad as they were, for example during the taper tantrum. Markets have been differentiating across asset classes."
The Wall Street banks aren't alone in their optimism. Franklin Templeton Investments is taking advantage of recent volatility to buy into emerging markets, including the Middle East and Islamic-bond issuers in Asia and Africa.
Read more: Franklin Templeton adds to EM bet, sees U.S. yields at 2.5%
As if to remind the bulls of the risks, some of the larger emerging markets were on the back foot Tuesday, with bonds and currencies in retreat. Mexico's peso declined to its weakest level in more than a year on concern a trade pact with the U.S. won't be approved by Congress before 2019. The rand tumbled after a report showed that South Africa's economy shrank the most in nine years in the first quarter, and the Turkish lira weakened as traders fretted the central bank isn't doing enough to combat accelerating inflation.
Despite the stresses, developing nations are in a stronger position than before, according to Raghuram Rajan, the former governor of the Reserve Bank of India, who said Asian countries are among the healthiest.
"Some of them can get stressed," he said in an interview with Bloomberg Television. "At this point I would say, amongst the big ones, no clear and present danger."
What most financial firms agree on is that investors are going to become increasingly selective. Just a week ago, there were jitters from Italy's political crisis, adding to concerns over a resurgent dollar, rising U.S. yields and oil prices, in addition to the ongoing trade disputes. The MSCI Emerging Markets Index of equities completed its fourth monthly decline in May, the longest stretch since February 2016, while a gauge that tracks currencies suffered its biggest back-to-back monthly slump since 2016.
Unlike the time of the taper tantrum in 2013, a majority of the central banks in emerging economies will probably have no need to lift rates in an aggressive and pro-cyclical manner, Morgan Stanley economists including Chetan Ahya wrote in a note dated June 4.
Some, of course, have been forced to act. Indonesia increased its policy rate for the second time in two weeks last Wednesday to defend its currency. Turkey raised interest rates by 300 basis points at an emergency meeting last month. Argentina hiked its benchmark rate to 40 percent earlier in May and sought help from the International Monetary Fund.
Despite the noise, Goldman Sachs says it's "still focusing on relative value in EM, with a positive tilt."
"Some stability in global rates/risk appetite is likely to be required for differentiation to return," Goldman Sachs analysts Andrew Tilton and Kamakshya Trivedi wrote in a June 5 report. "We think India bonds are oversold, and continue to see the South African rand as one of the clearest idiosyncratic opportunities."