Fund Manager Who `Got Lucky' With Ocado Eyes Boohoo, Shuns M&S
(Bloomberg) -- Sometimes timing is everything, as Gavin Launder discovered when he bought shares in Ocado Group Plc before a flurry of international deals that spurred a 270 percent rally since late November. Now he's waiting for another U.K. online shop to hit the accelerator.
Boohoo.com Plc has the capacity to surpass British high-street icon Marks & Spencer Group Plc in terms of market value, said Launder, a fund manager at Legal & General Investment Management Ltd. in London. The web retailer is among the most active holdings in the company's 210 million-pound ($281 million) Growth Trust, which has beaten 98 percent of peers so far this year.
Online upstarts such as Asos Plc and Ocado have long left M&S in the shade, symptomatic of the sea change that has overcome the industry in recent years as customers increasingly shop from the comfort of their homes. Although Boohoo.com's market valuation is still only about half that of M&S, Launder is confident of its growth potential.
"They see sales trends quickly, so they respond rapidly," Launder said in a phone interview. "If they carry on doing that right, I don't see why they couldn't overtake Marks & Spencer."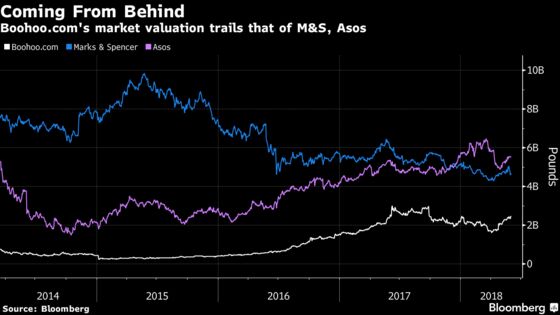 Shares of Boohoo have risen more than 300 percent since first listing in London in March 2014. Of 13 analysts tracked by Bloomberg, nine rate the stock a buy or equivalent and two a hold while two more recommend selling.
One of the skeptics is RBC analyst Sherri Malek. Boohoo's valuation suggests investors expect its superior growth levels to continue, but this can't occur without additional margin investment, she said in an April 26 note.
Launder, who has held Boohoo slightly longer than Ocado, is in for the long haul, although the company's reduced free float meant he took his time before buying into the equity story. Boohoo.com co-founder Mahmud Kamani and his siblings collectively hold about one-third of the shares, according to the company's website. Quilter Plc owns a 16.32 percent stake, according to an April 18 filing.
He says he "got lucky" with Ocado, which is now more akin to a technology stock following a landmark deal with U.S. retailer Kroger Co. last month. Valuation multiples put it squarely in line with Amazon.com Inc. The shares have climbed almost 60 percent since the announcement that Kroger would take a 5 percent stake and licensed Ocado's home-delivery technology to its partner on May 17.
"The timing was good," Launder said. "It got down to a price where it really wasn't very expensive as a food retailer anymore. And we stuck with the view that actually, if they start to deliver on the overseas orders, then it would start to look quite good value."
Launder's portfolio is skewed toward online and discount retailers. He also owns Asos, B&M European Value Retail SA and Just Eat Plc while steering clear of the likes of M&S and Kingfisher Plc.
"I worry about our high street and I have no idea what's going to end up populating it, apart from coffee shops and charity shops," Launder said.