England World Cup Win Likelier Than Italy EU Exit for Barclays
(Bloomberg) -- The chances of Italy leaving the European Union are lower than an England victory at the soccer World Cup that's about to kick off, according to Barclays Plc.
"The probability of Italy opting to leave the EU within the next year is not zero, but the availability of opinions on this likelihood shouldn't be taken as an indication of that probability growing," said Will Hobbs, the head of investment strategy at Barclays's wealth management unit in London. "We still think it is a lot less likely than England winning the World Cup in Russia –- which should put it into perspective for you."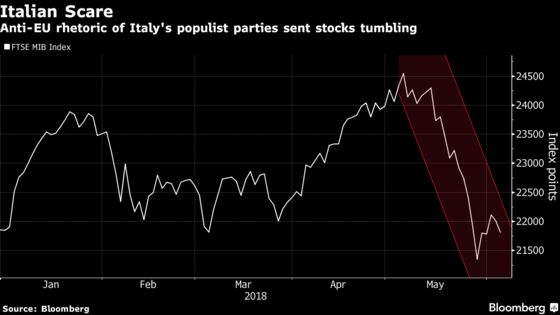 European markets were shaken in May as populist parties' anti-European Union rhetoric spurred the worst selloff in Italian equities since June 2016. The drop evoked memories of the roller-coaster days in 2011 and 2012 when Italy, along with Spain and Greece, was struggling to weather the sovereign-debt crisis and investors fretted over a break-up of the euro currency union.
Barclays says the Italian constitution -- "enacted in the ashes of Mussolini's destructive reign, deliberately designed to make future governments weak and policymaking protracted" -- will make the nation's exit from the EU challenging. And while the investment adviser expects political risk in Italy to be present throughout the summer, according to Barclays, this shouldn't deter investors from owning European stocks on bets of rising corporate profits.