Asia's Most Unloved Stocks Still Face Weakness, Investors Say
(Bloomberg) -- Stock investors remain guarded in the Philippines, Asia's most unloved equities market, even after the longest stretch of monthly declines since 2016 brought down valuations to 16-month lows and amid government pronouncements economic growth accelerated.
Traders at Metropolitan Bank & Trust Co. and Rizal Commercial Banking Corp., two of the biggest Philippine money managers, say they're not rushing in. Never mind that the Philippine Stock Exchange Index has tumbled more than 14 percent in the four months through May, setting up a potential rebound, or that last month's 4.6 percent inflation was way under the 4.9 percent median estimate in a Bloomberg survey, and Budget Secretary Benjamin Diokno said economic growth may accelerate to 7 percent in the second quarter.
"The worst is probably not over yet because some headwinds still face the market," said John Padilla, who helps manage $8.56 billion as head of equities at Metropolitan Bank. "There is no rush to jump into an aggressive overweight nor underweight position as sentiment will generally stay cautious."
Mounting geopolitical risks abroad, as well as rising inflation and interest rates at home, sent the benchmark Philippine Stock Exchange Index down 10 percent this year, the worst performer in Asia. The gauge has sank 15 percent since its peak in January, wiping out about $40 billion in market value as foreign funds have been on a selling spree.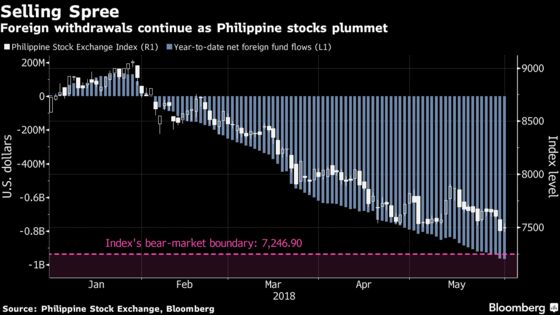 A stronger dollar and rising interest rates overseas at home and abroad, along with inflation that is yet to peak, are among the headwinds facing Philippine equities, according to Padilla. The central bank said inflation remains a concern and while consumer price gains slowed in Metro Manila, it's still accelerating in areas outside of the capital region.
Investors are also still wary of the negative impact of the nation's tax reform on consumer spending and corporate earnings, providing an additional hurdle for equities, according to Steven Ko, who helps manage $1.27 billion at Rizal Bank.
Ko said he prefers utilities, including telecom companies, that offer "better earnings clarity" along with "undervalued" consumer stocks such as Shakey's Pizza Asia Ventures Inc. and Century Pacific Food Inc. Padilla is "slightly overweight" banks, citing robust loan growth and improving interest margins. Property stocks are good as a short-term trade, as he cited the sector's "strong earnings and reservation sales."
Padilla said that while the Philippine stock index has momentum to trade 7,500 to 7,800 as valuations have become reasonable, a slide to 7,300 is possible should second-quarter earnings disappoint and inflation exceed expectations. For this month, Ko said the index will probably trade between 7,400 to 7,700.
"Inflation is still quite high and this will impact margins of companies, which are already under pressure from the tax reform," Ko said. "Second-quarter earnings aren't going to look spectacular so it will still be a challenging period for equities moving forward."