America Inc. Has a Record $2.5 Trillion Gift for Stock Investors
(Bloomberg) -- Corporate America is set to shower investors with a record surge of cash.
Between buybacks, dividends, and merger activities, companies are poised to plow $2.5 trillion into the stock market this year, according to UBS Group AG. The buying spree is equivalent to 10 percent of the S&P 500's market capitalization, easily outstripping prior records.
The projection helps revive the bull case for stocks, which have flat-lined so far in 2018 amid trade tensions and higher bond yields. And it's no wonder U.S. equity leadership has remained so narrow: the corporate flow comes largely from momentum shares such as technology companies, which have enjoyed the largest gains over the past year.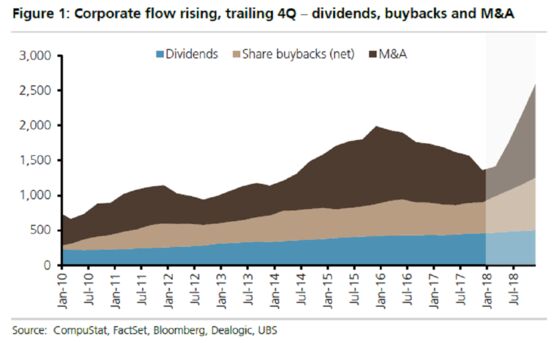 "The backdrop supports our overweights in healthcare and tech, as well as continued outperformance of growth and momentum strategies given such massive "flow" to growth firms/funds and investors' reinvesting the proceeds into stocks with strong fundamental momentum," UBS's equity strategists, headed by Keith Parker, wrote in a Monday note.
Firm repurchases reached $187 billion in the first quarter, according to data compiled by S&P Global Inc. For the first time, corporations have returned to shareholders more than $1 trillion in the past 12 months, the data show, spurred by a buoyant economic cycle and tax reform.
All told, buybacks, dividends and fund flows from American corporations account for 40 percent of share performance so far this year, UBS calculated.