Think Soros Is Right? Traders Chase 76% Returns Shorting Europe
(Bloomberg) -- George Soros says the euro area is in "existential danger" -- and the world's biggest banks are flogging a flurry of products to parlay his warning into tantalizing returns.
Investors spooked by the record sell-off in Italian government bonds can pounce on structured securities to short the single currency or place more-modest bets that the economic recovery is on thin ice. And it can often be done for as little as a few dollars apiece.
The "euro project is coming under pressure because of declining global liquidity and weaker reflation," strategists at Macquarie Group Ltd. led by Viktor Shvets wrote in a note. "The ECB will be tested yet again."
Here are some structured products for bearish wagers.
Gunning to short European stocks? There are a slew of leveraged certificates that offer traders the opportunity to bet wildly or merely hedge underlying stock exposures. The products resemble the boom in geared exchange-traded funds in the U.S., and there's typically nothing backing them except for the credit of the issuer. Oh, and the leverage can reach eye-watering levels, as much as 18-times for notes listed in Stockholm.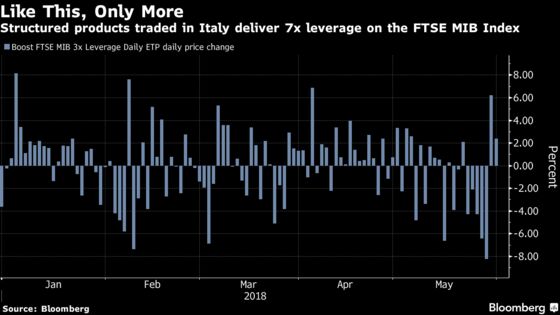 On Monday, for example, more than 8 million euros ($9.4 million) worth of notes from Societe Generale SA have been traded that provide seven times the daily performance of Italy's benchmark FTSE MIB.
Equity-linked structured securities can offer stellar returns. A seven-times inverse product tied to Italian shares soared 76 percent on June 24, 2016, a day after the U.K. voted to leave the European Union, as stocks in peripheral nations tumbled the most in the world.
Pessimistic about Italian lenders stuck in the continent's second-most indebted country? Zurich-based Leonteq AG is selling notes to local investors that could yield a double-digit coupon and their money back as long as the share prices of a trio of large Italian banks don't rise by more than a third over the next 18 months.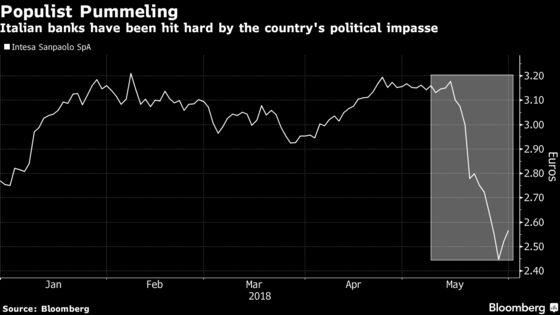 Still aching to short? The U.S. dollar-denominated version of the so-called inverse multi-barrier reverse convertibles pay a coupon of 11.6 percent a year and redeem at par as long as none of the shares rises by more than 30 percent over that time.
Worried that European companies will take the biggest hit in the next crisis? It's lucky that debt investors are spoiled for choice to position for the prospect. Among institutional investors and wealthy individuals, notes tied to indexes of credit default swaps have exploded in popularity in recent years, with derivatives on the index often more liquid than underlying bonds.
In one current deal, Nomura is selling $1.5 million of notes tied to the iTraxx Europe Index of investment-grade corporate bonds from the region, which pay a coupon equal to 5.34 percentage points more than three-month Libor.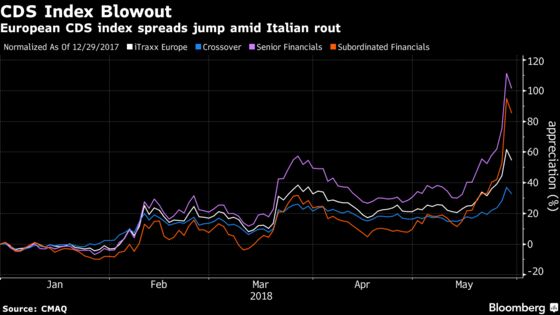 Money managers in index-linked notes are effectively selling protection against the bonds in the index, with the coupon derived by the premium paid by the protection buyer. To cushion themselves should the credit cycle abruptly turn, a popular variation has investors buying so-called tranche notes, which allow for a set number of defaults among index members before holders suffer losses.
And what of the euro? Products that bet on the common currency's trajectory are known as FX reverse convertibles. A typical note might have a conversion strike price set below the spot level: if the exchange rate never dips below that, investors get a coupon and their money back. If it does, the product is redeemed in the weaker currency.
The notes are phenomenally popular in Switzerland, where traders bought 25.2 billion Swiss francs ($25.6 billion) worth in the first quarter alone.
So while European assets appear to have shrugged off existential fears for now, there's no shortage of exotic securities for those bearish on the world's largest trading bloc.