Mideast Bets on $100 Billion Industry as Oil-Use Outlook Dims
(Bloomberg) -- They are the building blocks of our daily stuff, from sports shoes to computer keyboards, created when oil and natural gas molecules are split, or cracked, to produce ethylene, propylene and other chemicals.
The science may be esoteric, but petrochemicals are big business in the oil-rich Persian Gulf, and they're poised for further growth. Energy producers view these compounds increasingly as a key to unlocking more profit from each barrel of crude they pump.
Just last month, Abu Dhabi and Qatar each announced plans for new plants. In April, Saudi Arabian Oil Co., the world's biggest crude exporter also known as Saudi Aramco, teamed up with Total SA for a $5 billion facility in the kingdom and signaled its intention to invest in the U.S. Arab oil producers in the Gulf are boosting capacity at home and abroad to secure sales in a business that McKinsey and Co. estimates will drive 70 percent of the growth in demand for oil through 2035.
Crude producers can earn $15 a barrel by refining their output and an extra $30 on top of that by converting it into petrochemicals, with oil at $65 a barrel, according to Abdulwahab Al Sadoun, secretary-general of the Gulf Petrochemicals & Chemicals Association, or GPCA. These economics make further expansion into the industry "highly likely by all the regional players."
Demand for petrochemicals is rising faster than the consumption of fuels burned by cars, ships and planes. The International Energy Agency in May cut its 2018 forecast for global oil demand growth to 1.5 percent, saying the highest prices in three years are putting a brake on crude use. What's more, the rising popularity of electric vehicles is pinching demand for gasoline. Exxon Mobil Corp. and Royal Dutch Shell Plc are among oil majors that are prioritizing petrochemicals as a high-growth business.
The industry already contributes about $100 billion a year in annual sales to the combined economies of the six-nation Gulf Cooperation Council, according to the GPCA. The Dubai-based trade group has more than 250 members that produce petrochemicals throughout the Persian Gulf.
Saudi Basic Industries Corp., or Sabic as the petrochemicals maker is known, is the Middle East's most valuable publicly traded company. The region's 20 largest listed petrochemical companies account for almost a fifth of the total value of shares traded in Saudi Arabia, the United Arab Emirates, Oman, Qatar, Kuwait and Bahrain, the countries comprising the GCC.
Chemical businesses don't generate the same profit margins as oil production in the GCC, and they're competing in a crowded market. Even so, demand for petrochemicals is growing faster than for oil, and Gulf countries are seeking to diversify their economies beyond pumping raw crude. Both signal that the expansion will continue.
Here are four charts that show the scale of the region's petrochemical industries and highlight some of the biggest projects.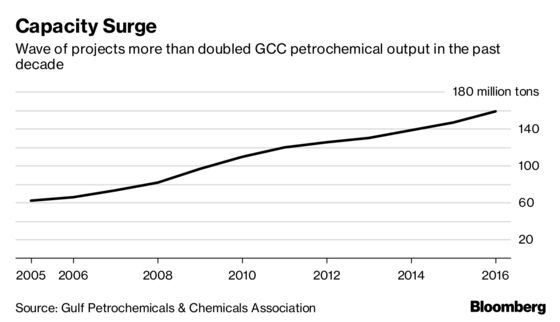 So far, the Middle East has played a relatively minor role in global petrochemicals production, accounting for 6 percent of world output in 2016, according to GPCA data. Producers in the region have the advantage of cheap feedstock from mostly government-run oil and gas refineries.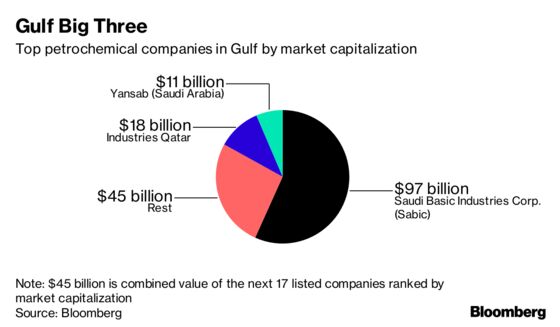 Kuwait blazed the trail for petrochemicals production among Gulf Arab nations, but Saudi Arabia quickly surpassed it. Eight of the 10 largest listed petrochemical companies in the GCC are Saudi (the others are Qatari), and Sabic's market value compares with the world's biggest chemical makers DowDuPont Inc. and BASF SE.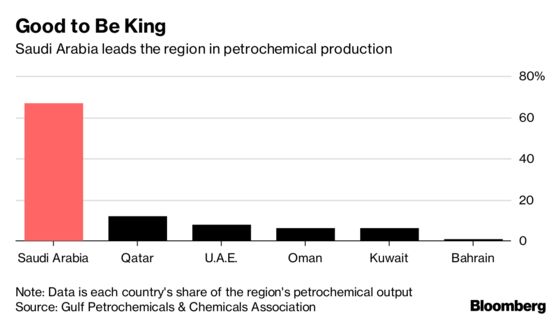 Most GCC countries are looking at international expansion as a strategy to capture more of the global demand for petrochemicals. Sabic has picked the U.S. as a focus of its growth plans, given the country's plentiful shale gas, and has formed a joint venture with Exxon Mobil to build an ethylene plant near Corpus Christi, Texas.