Flying the Kite for Big European Bank Mergers
(Bloomberg Opinion) -- Everyone can agree that Europe needs fewer banks, and that more mergers would help achieve that. But the logic of post-crisis regulation also dictates that banks must be smaller, simpler and less systemically risky. Talk of a merger of Italy's UniCredit SpA and France's Societe Generale SA, however logical, needs to answer this conundrum if it's to amount to more than an exercise in flying a kite.
On Sunday, the Financial Times reported that UniCredit CEO Jean Pierre Mustier — a top executive at Societe Generale until 2009 — sees his former firm as an ideal partner for the Italian bank. The idea that the two could make sense together has been kicked around for years: Societe Generale's investment bank would benefit from UniCredit's reach in Germany, Austria, Italy and eastern Europe, and vice versa.
With combined assets of more than 2 trillion euros ($2.4 trillion) and 50 billion euros of net revenue, a deal would be like building a new HSBC Holdings Plc. Shareholders might expect some 1.6 billion euros in annual cost savings, according to Jefferies analysts.
But every point in the deal's favor seems to run up against regulatory shibboleths from the 2008 crisis. One is that the bigger a bank gets, the more it should protect taxpayers against the risk of a bailout.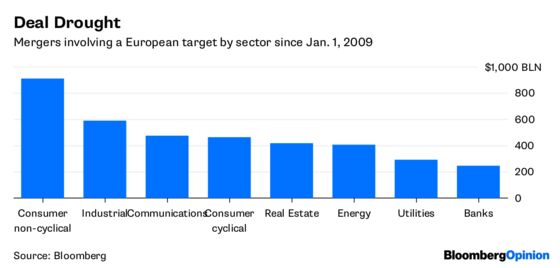 Societe Generale and UniCredit are both currently deemed globally systemic enough by rule-setters to need to hold an extra 1 percent of assets as capital. But HSBC requires 2 percent, suggesting that greater size will come with a big cost. When balance sheets are in the trillions, small percentages matter.
Regulatory twitchiness at the global level would be compounded by jitters at the regional and national levels.
Despite recent progress, Europe has yet to create a truly harmonized market for its lenders. The European Central Bank's top banking cop, Daniele Nouy, said in a speech last year that cross-border banking was being hampered by exemptions and different rules at the national level. Regulators are still jealously guarding control of their own patch: Nordea Bank AB's recent failed attempt to buy ABN Amro of the Netherlands is a case in point.
And that's before you even get to the political questions such as where UniCredit-Societe Generale would be based, who would ultimately control the bank, and where the inevitable job cuts to please shareholders would land.
The two firms are similarly sized, with UniCredit's 33 billion-euro market value not far off SocGen's 30.8 billion euros, and they don't have the kind of domestic geographic overlap that would see mass layoffs. But it's hard to think of a worse political pairing for Emmanuel Macron than Italy's new anti-establishment leaders, who have recently pledged to steer the banking system further away from EU rules.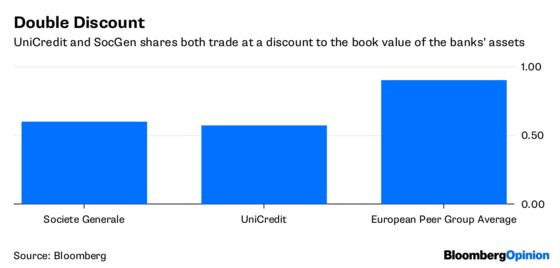 Does such a tie-up have much likelihood of happening anytime soon? No. Regulators want banks to improve profits and simplify their businesses before they get hitched. That both Societe Generale and UniCredit trade a steep discount to the book value of their assets suggest there's more work to do.
But is it worth talking about? Absolutely. Bankers want regulators to get over their reservations about big mergers, and a kite-flying exercise is a perfectly good way to go about it.