Facebook Has the Most Hedge Funds Counting It as a Top Holding
(Bloomberg) -- Beset by legislative scrutiny and negative press, this spring was not kind to Facebook Inc. Even so, hedge funds were pouring money into the beleaguered social media giant, even as its stock was falling. So far, it's been a very lucrative trade.
According to data compiled by Goldman Sachs Group Inc. at the end of the first quarter, 97 hedge funds counted Facebook as one of their top 10 holdings at the end of the first quarter. That's more than any other single stock, and up from the 81 funds that had it in their top 10 as of September of last year, when Chief Executive Officer Mark Zuckerberg and his team were just starting to enter months of questions surrounding usage of the platform to influence the 2016 elections, and before anyone had heard of Cambridge Analytica.
The end of the first quarter also happened to be when the stock was hitting its recent lows. Shares of Facebook slid about 10 percent in the first three months of the year. Since the bottom on March 27, however, the stock has recovered 27 percent, reaching a record high on Friday. Shares initially fell on Monday after a New York Times report that Facebook's data-sharing partnerships with device makers allowed the companies to access data of users' friends without their explicit consent. Facebook has defended its data privacy practices.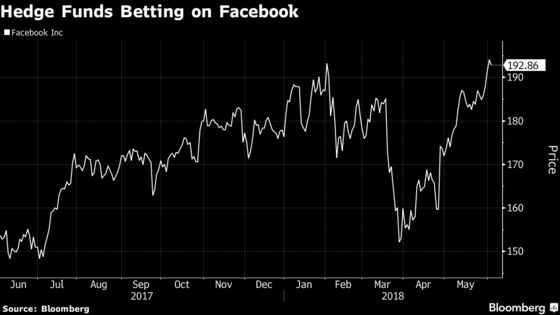 Wall Street analysts have similar bets. There are 41 analysts calling the stock a buy, with two calling it a hold and two a sell. The average 12-month price target is $222.18. Shares are currently trading around $192, implying a 16 percent rise.