ETF That Bets on Dying Malls Was Late to the `Retailpocalypse'
(Bloomberg) -- The "retailpocalypse" came, but for an exchange-traded fund aimed at capitalizing on it, shopping Armageddon may have passed too quickly.
The ProShares Decline of the Retail Store ETF, known by its ticker EMTY, was started in November 2017 to bet against "brick and mortar" retailers that were poised to suffer from the dominance of internet shopping. At the time, the largest retail fund -- the SPDR S&P Retail ETF, ticker XRT -- was down more than 8.5 percent for the year compared with a 17 percent gain in the S&P 500 Index.
But fortunes have turned since then, as XRT has nearly tripled the return of the broader benchmark, while EMTY has declined around 13 percent.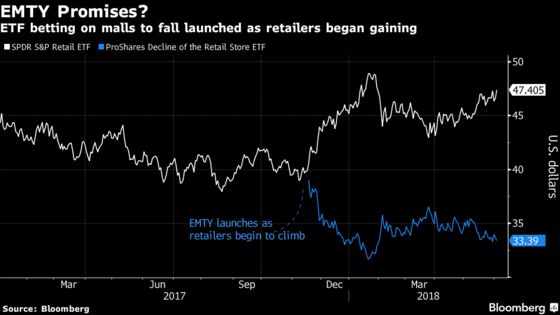 "This is par for the course for thematic strategies," said Bloomberg Intelligence analyst Eric Balchunas. "They tend to launch after a sweet backtest and then traditionally on average go down after their launch, because no one is going to list a product after a long, ugly backtest."