Equity Bulls Take Charge as S&P 500 Tests Top of Trading Range
(Bloomberg) -- The S&P 500 is poised to finally break out of the 45-point trading range where it's been stuck for the past month.
The benchmark for U.S. equities gained as much as 0.5 percent to 2,749 Monday. If the momentum continues, the index could end the trading session above the 2,700-2,745 range it has held to since early May.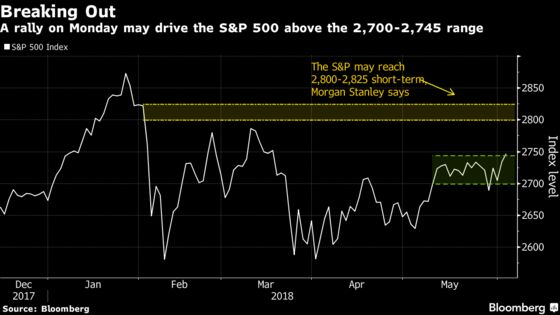 Monday's gain came as optimism about the world's largest economy helped investors put protectionist fears and growing geopolitical angst aside and push the buy button. It's just the latest sign that U.S. equity bulls are reasserting themselves. The Russell 2000 Index of small-cap stocks and the FANG Index of tech heavyweights both notched new records last week. The Nasdaq Composite Index also was headed for an all-time high Monday.
As for the S&P 500, Matt Maley, chief strategist at Miller Tabak + Co., said that "whichever way it breaks out of that range should be important for how the market acts over the near-term." While there's a greater chance for the gauge to move higher, investors will need "to wait for a break-out to actually take place before we can get too excited about any near-term upside potential" he said.
Where will the S&P 500 go next if it does move past the top of its recent range? Morgan Stanley's Mike Wilson says it may reach 2,800-2,825 in the short-term before companies pause share buybacks ahead of the second-quarter earnings season. Evercore ISI's Rich Ross sees the index rising to 2,840-2,870 if it breaks above the trading range.