Japan Stocks Still a Buy Even if Abe Exits, Jefferies Says
(Bloomberg) -- A series of scandals has dragged support for Shinzo Abe toward the danger zone, threatening his chances of remaining Japan's prime minister. While taking credit for recognizing this threat, Jefferies Japan Ltd. still sees now as a good time to buy the country's stocks.
The Topix index advanced Friday but was still headed for its first back-to-back weekly decline since early February. Foreign investors were net sellers of Japanese equities for a third-straight week over May 21-25, according to Tokyo Stock Exchange figures.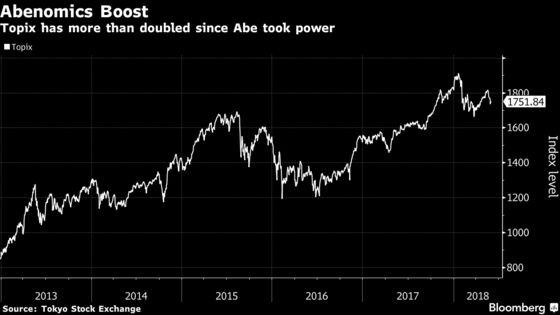 Amid global concerns including the fate of a planned U.S.-North Korea summit and President Trump's tariffs, the Nikkei newspaper credited a May 22 Jefferies' report on a potential exit of Abe as a reason for foreigner selling. While conceding its "non-consensus" position on the domestic political risk may have had an influence, Jefferies remains "very bullish on Japan," analysts led by Zuhair Khan wrote in a note dated May 31.
Approval for Abe's cabinet stood at 42 percent in a Nikkei poll taken May 25-27, compared with 43 percent a month earlier. The disapproval rating rose to 53 percent, setting a record high for the second Abe administration that began in 2012.
Even if Abe steps down, the ruling Liberal Democratic Party may stay in power as "the opposition is not united and much of it is considered incompetent," Jefferies said. This would result in a continuation of Abenomics, bolstering the broker's bullish call.
While the Topix has more than doubled since Abe took power, valuation multiples "remain reasonable," monetary and fiscal policies may stay accommodative for several years, and corporate governance reform should result in a market "rerating" over time, Jefferies wrote.