Initial Coin Offerings Have Already Topped 2017's Record Pace
(Bloomberg) -- So much for the backlash against initial coin offerings.
Sales of digital tokens by technology companies this year have already surpassed the record amount raised in all of 2017 even as government officials from China to the U.S. clamp down on offerings and incidents of fraud continue. Block.one, a Cayman Islands-based startup that's behind the EOS token, is on track to raise about $4 billion in an almost year-long offering expected to close Friday, which would make it the largest ever fundraiser of its kind.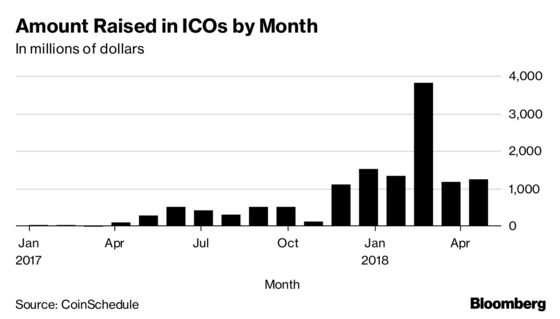 Even before Block.one, initial coin offerings have raised more than $9 billion this year, compared with less than $4 billion in all of 2017, according to ICO data tracker CoinSchedule. Messaging service Telegram raised $1.7 billion.
"The ICO market is still hot," Alex Michaelis, co-founder of CoinSchedule, said in an email. "EOS and Telegram have been big successful ICOs this year, albeit not a classic ICO in the sense that Telegram was closed to private investors only, and EOS has been trading in exchanges for a while, which influences the token price."
The ramp-up is happening even as regulators are tightening oversight of digital tokens. The U.S. Justice Department recently opened a criminal probe into whether traders are manipulating the price of Bitcoin and other digital currencies. China has already banned the sales. The U.S. Securities and Exchange Commission is cracking down on scams and raising questions over whether tokens from ICOs fall under the agency's scope of regulation.
ICOs are also facing scrutiny over their relatively lax disclosures of how the money they raise will be used, and which rights their token holders will have. Often holders don't have many rights.
While the regulatory scrutiny has been especially fierce in the U.S., many ICOs -- such as Block.one -- go around that by simply preventing Americans from participating in the token sales, Michaelis said. What's more, "the SEC so far has shown to be aggressive towards fraudulent projects, and EOS seems to be a big and legitimate endeavor," he said.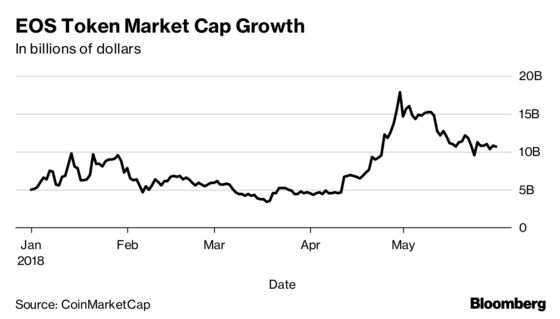 EOSIO is designed to compete with Ethereum, and support the creation and operation of so-called Dapps, or decentralized applications that incentivise their users. There are already more than 1,560 Dapps, ranging from games to social networks, being built on Ethereum, according to State of the DApps. EOSIO fans are working on at least 25, according to postings on its forum.
But EOS tokens have many fans, and the coin's value is up about 40 percent since the beginning of the year, even though the value of crypto bellwether Bitcoin is down about 45 percent, according to crypto data tracker CoinMarketCap.
"We are long EOS," Kyle Samani, managing partner at crypto hedge fund Multicoin Capital, said in an email. "We are still bullish. The recent news is just FUD (fear, uncertainty and doubt)."
In December 2017, Block.one, a publisher of open-source software, said it will invest $1 billion in businesses planning to use its EOSIO software, including via partnerships with former fund manager Michael Novogratz's Galaxy Digital. Block.one, which employs more than 200 people globally, also has offices in Hong Kong, California and Virginia.