Shopify Is Said Near Deal as Tenant in Toronto Development
(Bloomberg) -- Shopify Inc. is close to a deal with Allied Properties Real Estate Investment Trust and RioCan Real Estate Investment Trust to lease new office space as it expands in Toronto's surging tech industry, a person with knowledge of the matter said.
The space under negotiation is part of the Well, a 7.8-acre (3.2-hectare) office, retail and residential development downtown. Allied and RioCan own the 1.6 million-square-foot (150,000-square-meter) commercial part of the site, of which about two-thirds is office space. Of that, Allied is finishing up transactions with three tenants for the first 475,000 square feet it's leasing.
Talks between the two REITs and Ottawa-based Shopify continue and may not lead to an agreement, said the person, who asked not to be identified because the matter is private. It's unclear how much space Shopify is looking to occupy or how much it might cost to lease. Allied, RioCan and Shopify declined to comment on the talks.
The potential deal is another sign of the e-commerce company's rapid ascent. Its shares have risen more than 500 percent since it went public three years ago, and its market capitalization is now C$20.3 billion ($15.7 billion). The company, which helps businesses operate online, has been increasing its office space in Canada's biggest city to make room for hundreds of new employees.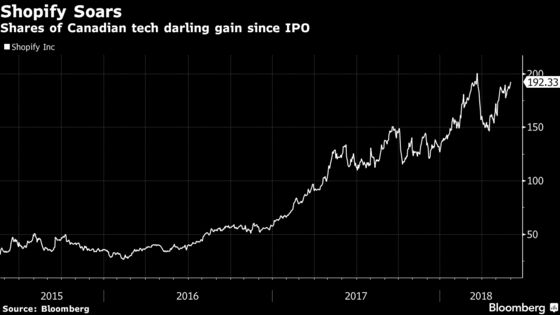 Since 2015, Shopify has tripled its workforce, to more than 3,000 employees. It previously signed a deal with Allied and RioCan for 158,520 square feet of office space that can fit as many as 1,200 employees on King Street West, near the Well. The King Street West site is expected to be completed next year. Shopify is also expanding in Waterloo, Ottawa and Montreal. The company's shares jumped 1.2 percent to C$194.57 at 10:17 a.m. in Toronto.
Allied is targeting tenants in technology, advertising, media or information for the Well's office component, which could cost as much as C$750 million to build, Allied Chief Executive Officer Michael Emory told Bloomberg in April. Completion of the development is scheduled for 2021, and any lease signed would be for more than 10 years, he said.