Future FinTech Jumps, Then Falls After Touting Blockchain Ties
(Bloomberg) -- Future FinTech Group Inc.'s rebranding efforts during this past winter's Bitcoin craze appear to be losing their juice.
Shares of the Xi'an, China-based firm, formerly known as SkyPeople Fruit Juice Inc., jumped as much as 27 percent Friday after the company announced a "strategic transformation plan" involving blockchain. The rally didn't last long. The stock quickly lost more than half of the gain and was up 6.5 percent to $2.29 as 12:15 p.m. in New York.
The market's enthusiasm may have been tempered after investors realized that the firm had already discussed plans for a "strategic transformation" -- and blockchain -- in the past. The shares soared to as high as $8 in December on the news.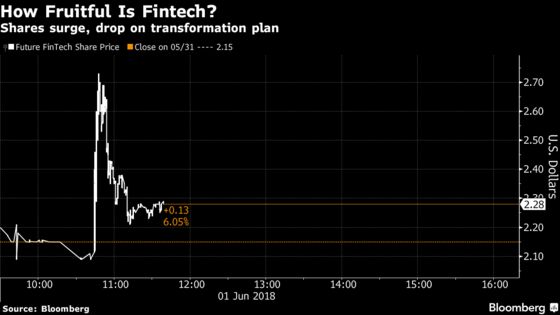 "Based on our existing blockchain business, our transformation plan will also aim to create a digital asset application incubator 'Chain World- Digital Space,' which provides business incubation and acceleration services including projects finance, technology, talent, and marketing services for up-and-coming blockchain companies," Future FinTech said in a statement Friday.
The firm reported $562,146 of revenue in the first quarter, a majority of which came from beverage products.
How do you like them apples?