Deutsche Bank Shorts Reach 13-Month High on U.S. Unit's Troubles
(Bloomberg) -- Short sellers are targeting Deutsche Bank AG again as the shares closed at a record low on Thursday.
Bets against the lender rose to 5.1 percent of outstanding shares yesterday, the highest since May 2017, according to data compiled by IHS Markit. AQR Capital Management boosted their wager to more than $520 million last week while hedge fund Marshall Wace has a $150 million position.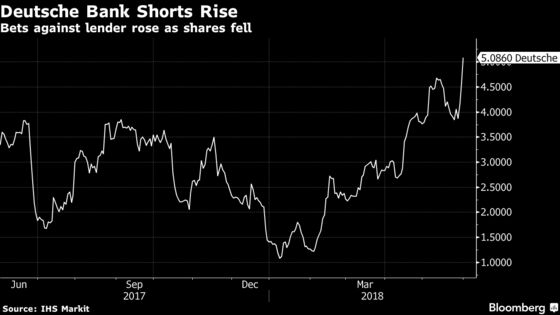 Reports that U.S. regulators had added Deutsche Bank to a group of troubled lenders they monitor sent the stock to the record low. The company said there are no concerns about its financial stability and that it's overhauling the operations at the center of the issue. Its shares rose as much as 4.2 percent on Friday, the most in more than a month.
Spokesmen for Deutsche Bank and Marshall Wace declined to comment. A spokeswoman for AQR declined to comment.
AQR, one of the largest quantitative money managers, started raising its bets against the bank on May 14, according to filings to the German regulator. Coincidentally, that's the same day money manager Steve Eisman, who predicted the collapse of subprime mortgages before the 2008 financial crisis, recommended shorting the lender.
Eisman described the lender as "a problem bank" with profitability issues, and said it will probably have to raise capital next year. Deutsche Bank representatives declined to comment on the remarks at the time.
Short sellers profit by selling borrowed shares and buying them back at lower prices.