Tariff Thursday Strikes Again: Here's the Fallout Across Assets
The Trump administration announced that it's slapping duties on steel and aluminum imports from the European Union, Canada and Mexico. It's the harshest U.S. action yet against trading partners who had been hoping for exemptions. But for all the bluster, investors aren't panicking.
The S&P 500 index was down 0.4 percent as of 1:04 p.m. in New York. That compares with a loss of more than 1 percent on March 1, when the metals tariffs were first announced.
"This one looks like it's a step further than what we have experienced in the past, where the assumption was that they were overtures in an attempt to negotiate," according to Liz Ann Sonders, chief investment strategist at Charles Schwab & Co. "That said, I'm still not sure the market or anybody else should be making definitive analysis on what this means, but for the most part I think this is a negative."
Here's a rundown of how assets are reacting to the news:
The end of the tariff reprieve has given the greenback a bid relative to the Mexican peso and Canadian dollar, with slower-than-expected first-quarter growth also weighing on the loonie.
One-week 25-delta risk reversals for U.S. dollar-peso and greenback-loonie, however, don't signal that traders are all too sure these moves will endure in the short term. That is, calls outperformed puts by only a limited amount on Thursday.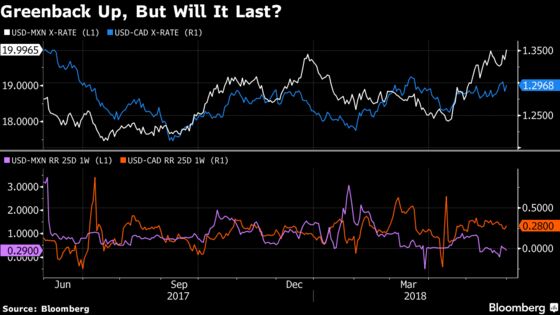 The tariff announcement is "100 percent priced in," said Christian Lawrence, a currency strategist at Rabobank in New York. "We shouldn't be surprised really, it turns the screws on what seemed to be somewhat stagnated talks."
American companies including United States Steel Corp., AK Steel Holding Corp. and Steel Dynamics Inc. gained after the metals tariff announcement. U.S. Steel climbed the most of the three, and was up 2.4 percent at midday in New York. Meanwhile, Canada-based Stelco Holdings Inc. fell as much as 3.3 percent. Mexico's Industrias CH, which dropped as much as 2.5 percent, is off session lows.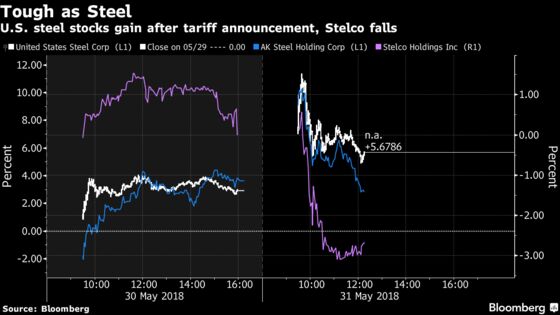 "Mexico sends roughly $2 billion worth of steel to the U.S., which sounds like a big number, but in the grand scheme it's actually not that big an impact," said Erik Nelson, a currency strategist at Wells Fargo in New York.
Aluminum prices rose after the tariff announcement, putting pressure on beverage-makers by increasing the cost of cans. Molson Coors Brewing Co. and Boston Beer Co. were both down more than 1 percent during the morning before regaining some ground. Constellation Brands Inc., which makes Corona and Modelo, declined as much as 1.1 percent.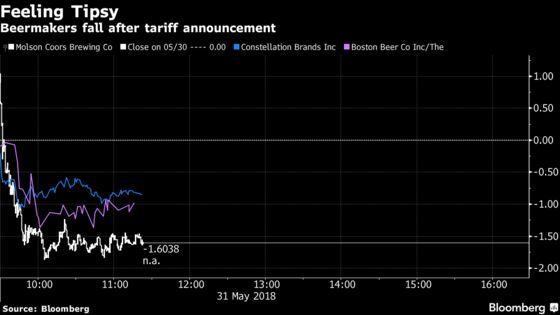 Political uncertainty in Europe has encouraged a flight to safety, sending 10-year Treasury yields below 2.8 percent this week, just days after they breached 3 percent. The tariff announcement is maintaining that pressure, with the 10-year yield at 2.84 percent Thursday.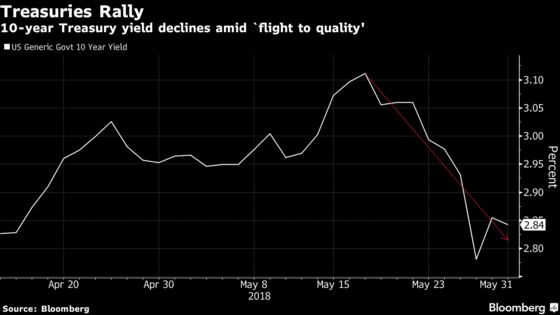 "The tariff news really helped the Treasury rally, especially in the back end of the curve," said Alex Li, head of U.S. rates strategy at Credit Agricole SA. "You have the tariff news, you have the flight to quality from stocks, you also have the month-end index extension trades. I think all these factors have driven the long-end rally."
U.S.-based companies that would be hurt by a breakdown in the country's trading relationships are generally doing worse than their Canadian peers. Ontario-based auto-part makers Magna International Inc. and Linamar Corp. are doing better than Michigan's Lear Corp. Same goes for Canadian National Railway Co. and Canadian Pacific Railway Co. relative to Kansas City Southern.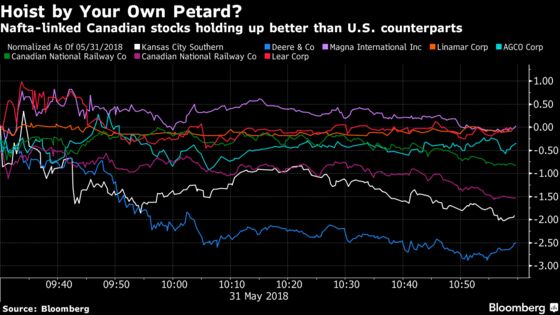 The tariffs are having a muted affect because "we are still in the trade dispute phase" rather than a trade war, according to Mark McCormick, North American head of foreign-exchange strategy at Toronto-Dominion Bank.
"It is still tit-for-tat, but potential auto tariffs could have a much larger impact," he wrote in an email. "We have noted the trade theme is a process rather than an event so not clear it has day-to-day sticking power."