Samsonite Gets Support From Biggest Holder After Stock Plunge
(Bloomberg) -- One of the world's largest investment firms gave Samsonite International SA a significant vote of confidence after the luggage maker came under a blistering attack from a short seller.
Capital Group Cos., already the company's biggest shareholder, paid about HK$359 million ($46 million) for 13.3 million Samsonite shares on Friday after the stock had its biggest two-day drop on record. The plunge followed a report by short-seller Blue Orca Capital LLC alleging accounting lapses and poor corporate governance.
The investment firm is making a strategic bet on Samsonite's prospects, buying low after recently selling high. It unloaded shares just over a week earlier, when Samsonite was trading closer to an all-time peak reached in April.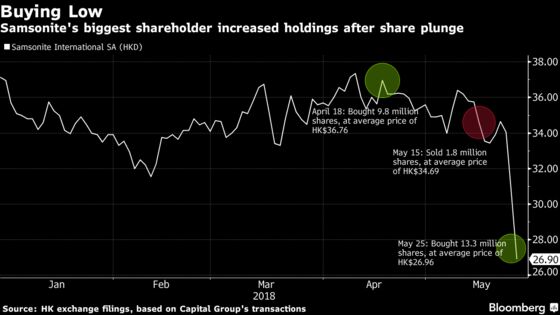 The Mansfield, Massachusetts-based company said last week that Blue Orca's allegations are "one-sided and misleading," and said it would provide additional information "in due course." Samsonite has yet to release a more detailed response, and trading in the company's shares has been halted all week.
While Blue Orca's Soren Aandahl has kept up the attack, raising questions about Chief Executive Officer Ramesh Tainwala's resume, others have offered more bullish opinions. HSBC analyst Erwan Rambourg wrote Wednesday that investors should "broadly disregard" the attacks on the CEO's character and qualifications, and dismissed some of Aandahl's other allegations while saying the company needs to give more clarification on its Tumi deal.
Capital Group raised its stake in Samsonite to 13.8 percent with its latest purchase. The next biggest shareholder is Fil Ltd., with an almost 6 percent stake, followed by JPMorgan Chase & Co. at 5.1 percent.