Quant With $4.8 Billion Holds Tight on Market Roller Coaster
(Bloomberg) -- The sharp moves in global markets across Treasuries, stocks and European bonds this week raised the specter of forced selling en masse -- thrashing risk appetite anew. Some systematic traders, however, simply kept calm and carried on.
Take Transtrend BV, a $4.8 billion quantitative hedge fund that follows trends across asset classes. The record plunge in Italian bonds -- in concert with choppy trading in U.S. stocks and sovereign debt -- left the commodity trading advisor nonplussed as it kept exposures broadly unchanged.
"It's tempting to start selling when a lot of things are free falling, but it's important not to panic," Andre Honig, executive director of the Netherlands-based fund, said in an interview. "Risk management should be anticipating these moves all the time."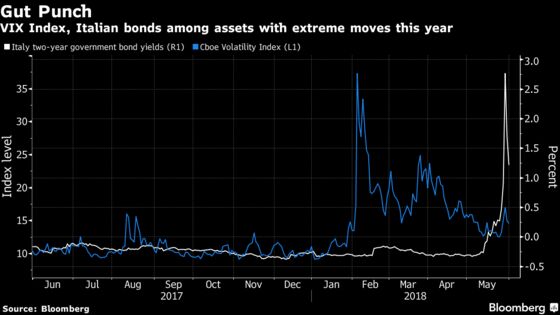 Honig should know a thing or two about event probabilities. His firm systematically follows trends, so any sizable shifts across stocks, currencies and bonds are quantified to capture the market direction.
Some $1.3 trillion was wiped off global stocks this week, while Treasury markets recorded the biggest one-day jump in implied volatility since 2016 as investors flocked to haven assets from the yen to the Swiss franc.
The upshot from all that mayhem? Ignore the noise, according to Honig. "These events happen all the time," he said. Transtrend, which uses future contracts to profit from the market's momentum, remains long equities and short U.S. bonds and the Swiss franc. Those positions were punished as political upheaval in Italy spurred the global flight to safety.
Divining the market's trend is a harder task today than it was during the record calm of 2017, as volatility in U.S. stocks and bonds has awakened. An increasingly complex market landscape with questionable liquidity has also made trend-followers the whipping boy. They have often been blamed for exacerbating selloffs when they flip to short positions or deleverage to maintain a steady level of risk.
But forceful one-day drops in isolation don't spur material shifts in portfolios, said Honig, echoing an oft-repeated missive from his CTA peers.
"Trends are more and more disturbed by short-lived reactions," he said. "Over the past decade, we needed to make our systems more robust to make them less sensitive to short-lived reactions in trends than before."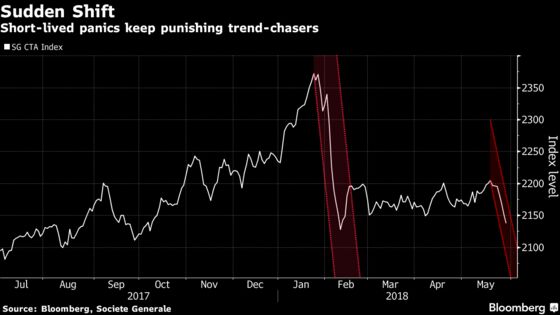 By the end of Tuesday's turbulence, Transtrend had recorded a 0.5 percent drop in May. A day later, its performance for the month was positive, climbing to a 0.2 percent gain. The Societe Generale CTA Index of the 20 largest firms open to new investments notched a 1.7 percent decline, as of Tuesday close.