Europe's Biggest Debt Collector Says Italy Exposure `Very Good'
(Bloomberg) -- Europe's biggest debt collector, Intrum AB, says it doesn't see the political turmoil in Italy hurting its business.
"The way things look today, and" given "what we have on our books, we think that is very good debt," said Louise Bergstrom, head of investor relations at the Stockholm-based company.
Intrum, which operates in 24 countries, offers credit management services and buys debt portfolios from corporate clients and banks. Moody's Investors Service cut the outlook on Intrum's credit rating last month, to stable from positive, citing its partnership with Intesa Sanpaolo SpA to service non-performing loans in Italy. That deal, which has yet to be completed, was announced in mid-April.
On Intesa
The 60 percent senior tranche of the Intesa portfolio will be financed by a pool of banks, while the mezzanine and equity tranche will see Intrum and the co-investor buy a 51 percent stake and Intesa hold the remainder.
Banks including Credit Suisse Group AG, HSBC Holdings Plc and Banca Imi, a division of Intesa, are set to provide financing for the bad-loan portfolio, people familiar with the matter have said.
Intesa Sanpaolo Makes One of Italy's Biggest Loan Disposals
Yields on Intrum's bonds rose earlier this week as concern grew that political turmoil in Italy might be the beginning of a new euro-zone debt crisis. Yields have since retreated a bit, after the company said its Italy exposure wasn't suffering.
Intrum's share price has also recovered after "the company said that the current activity in Italy so far hasn't been hit by the political uncertainty," Nordea Bank AB said in a client note on Thursday. Nordea is advising investors to buy Intrum stock, and sees the shares trading at 305 kronor in 12 months' time, up some 45 percent from the current price.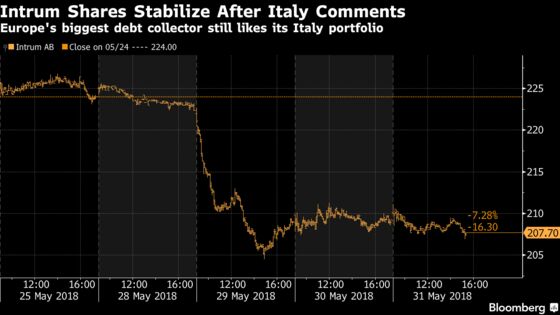 "Political instability isn't anything new, and it's something we've considered when we look at the price and what we paid," Bergstrom said. "We're still very happy with the transaction and believe strongly in it," she said, referring to the Intesa deal.
Hoist Finance AB, another Swedish debt collector, says the panic hitting Italian markets is unlikely to last.
"Our assessment is that the likelihood of a dramatic deterioration" over the long term "in the Italian market is low, even if it's very turbulent right now," Michel Fischier, head of investor relations at Hoist, told Bloomberg.
"What everyone seems to forget when they look at the situation in Italy is that if the proposals that are now being discussed by the Five Star Movement and the League would become reality, it would first and foremost punish the already weak Italian banks and also the entire Italian economy, and make normal lending impossible in the country," he said. "I am completely convinced that the latter is not in the interest of any Italian political party."
Hoist doesn't have any local financing in Italy, and "we are therefore not affected by the current volatility when it comes to Italian market rates," he said.
Bergstrom at Intrum said that with Italy's non-performing loan market representing one of the biggest of its kind in Europe, it's important to be exposed to the country if "you want to be one of the leading players in Europe."
At Hoist, the view is that we've been here before. "It's not really anything new that's happening in the Italian market," Fischier said. "Italy is a country that has had roughly as many governments as the number of years that have passed since World War II, so turbulence at the government level is what's normal in Italy."
"We have successfully operated in Italy since 2011 during a lot of different government constellations," he said.