Italy Bonds Rise for Second Day as President Waits on Populists
(Bloomberg) -- Italian bonds climbed for a second day as the political turmoil that has rattled markets in recent days eased.
Italy's 10-year securities are well on the way to retracing Tuesday's decline, with two-year yields falling back below one percent, finding support on the prospect of the Five Star Movement and the League reviving coalition talks. Anti-European Union rhetoric has also dimmed, with both parties insisting that they had no plans to ditch the common currency or abandon the EU.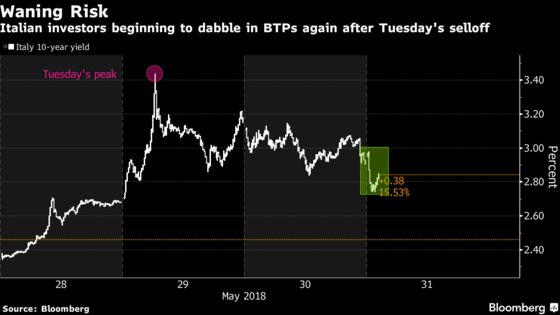 "This is a classic crisis dynamic -- on Tuesday everybody gave up and now things slowly start to improve," said Arne Lohmann Rasmussen, head of fixed-income research at Danske Bank A/S. "There is still tremendous carry and roll in the short end of the Italian curve, so people are dipping their toes."
Italian 10-year yields dropped 25 basis points to 2.67 percent as of 9:28 a.m. in London, having been as high as 3.44 percent on Tuesday, the highest since March 2014. The yield spread over their German counterparts was at 228 basis points, after closing at 290 Tuesday.
Two-year bonds, which bore the brunt of Tuesday's sharp decline with yields surging an unprecedented 193 basis points, yielded 0.97 percent, compared with a high of 2.84 percent two days ago.
Euroskeptic Paolo Savona, who was vetoed by President Sergio Mattarella as finance minister, a decision that helped spawn the crisis in Italian bonds, may now become foreign minister instead, according to Corriere della Sera.