It May Be Too Late to Get Into This Leading Equity Market
(Bloomberg) -- Most of Asia's stock markets fell in May -- New Zealand was one of the rare exceptions. That could mean the future won't be as bright.
Shrugging off trade tensions and Italy turmoil, the S&P/NZX 50 Index just posted its best month of the year and the biggest gain among regional gauges. As of Thursday's close, it was on track to become one of the world's best-performing developed equity markets for 2018.
But at almost 20 times estimated earnings for the next 12 months, the benchmark measure is trading above its five-year average valuation and is almost one-third more expensive than the MSCI All-Country World Index. The S&P/NZX 50 Index fell as much as 0.8 percent on Friday.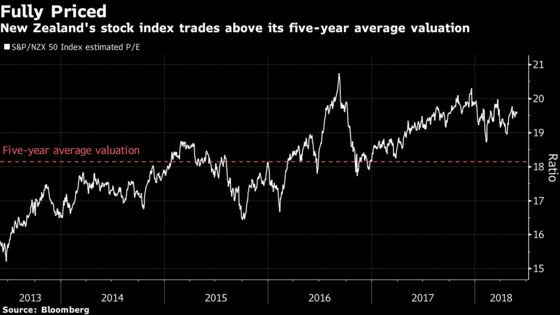 "The New Zealand market is relatively fully priced," said Shane Solly, a fund manager at Harbour Asset Management Ltd. "And against its global peers, it's fully priced."
The New Zealand equity gauge was up 3.1 percent for 2018 as of Thursday's close, set for a for a seventh straight year of advances. "Sound" corporate earnings, investors turning to safer options amid rising global turmoil, and a reshuffle of MSCI Inc.'s global index have helped propel New Zealand shares higher this month, Solly said.
But for those seeking returns, it could be too late. The benchmark is poised to rise about 1.1 percent over the next 12 months, the least among 18 regional stock gauges as of mid-May, based on price targets of index members compiled by Bloomberg.