Investors in Their Pajamas on Other Side of the Trade in China
(Bloomberg) -- The bed is Xiao Xing's preferred place to trade shares.
The Beijing media worker is still in her pajamas when the Shanghai Stock Exchange opens for the day. That's when she starts browsing the social media accounts of self-proclaimed stock-market "old drivers" -- a Chinese term for experts -- and trawling the online rumor mill for tips on what to buy and sell.
China is home to the world's second-largest equity market, but decades of barriers to outside investment have meant a unique trading world has developed, one dominated by amateurs like Xiao. Foreign investors gain greater access to that $7.4 trillion universe from today, with MSCI Inc. admitting China-listed stocks to its major emerging-market indexes for the first time.
For the pension funds and institutions that track MSCI's stock benchmarks, that may provide a culture shock.
Individual investors are only about 16 percent of the U.S. market, but the share is around 80 percent in China. And while fundamentals are becoming more important there, the size of the retail army means less traditional stock-picking methods can have a big influence.
Xiao, 33, has more than 100,000 yuan ($15,600) invested in stocks. She doesn't spend much time reading the financial press, saying in China, it's "a waste of time." While Xiao didn't say how much she's made -- or lost -- in the market, she said she gets everything she needs to invest from social media, company statements and some bank research notes.
Messaging apps like WeChat and QQ are used prolifically in the Chinese financial community, with bond-market players using them to distribute research and even solicit orders.
One of the accounts Xiao follows can be roughly translated as "the Boss of Lujiazui" -- referring to a part of Shanghai's financial district. An introductory spiel on the account's WeChat page says the Boss dispenses articles on potential trading opportunities, "the correct investment mentality," as well as "secret information" and gossip.
Xiao says foreign investors will need to embrace the Chinese market's quirkiness, but she's also hoping MSCI inclusion will lead to more of a focus on valuations and stock fundamentals. Novice investors piling into the market and taking on record amounts of margin debt triggered China's spectacular boom and bust of 2015, when Chinese stocks shed $5 trillion of value in a matter of months.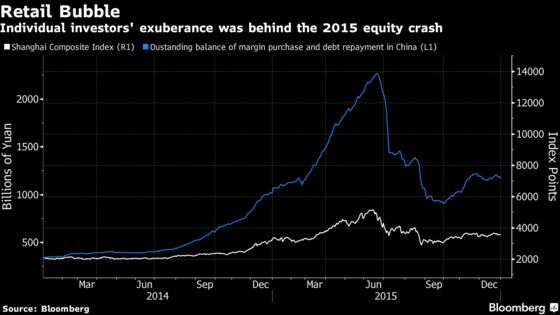 "Chinese investors can suddenly lose their minds, resulting in great volatility, and the market can switch between a bull and bear run within a day," said Xiao. Bringing in more outside players "will guide onshore investors to focus more on companies' values, but this process will take a long time."