How Few Is Too Few? Two-Stock Fund Spreads Bets After 80% Gain
(Bloomberg) -- There's high-conviction funds, and then there's Stephen Diggle's health-care funds.
The hedge fund veteran's $100 million Vulpes Life Sciences Class A fund holds only two stocks, and the $50 million Class B fund just three.
While the strategy has paid off -- the Class A fund has returned 80 percent this year through May 25 after almost tripling last year -- Diggle says it's time to diversify and is opening the funds to outside investors as he targets as many as 12 listed and privately held biotech investments.
"We are probably too concentrated now, which is why we want to raise some money and diversify," Diggle, the chief executive officer of Singapore-based $400 million Vulpes Investment Management, said in an interview. "We don't believe in spreading ourselves. In most cases we are one of, if not the, largest, investor. And we are very often on the board."
While there is no set industry standard and money managers have discretion over how many stocks they have in their portfolio based on their strategy and performance goals, the Vulpes funds are unusually concentrated. Of 531 global equity funds managing between $50 million and $100 million for which the information is available, the median holding is 59 stocks, according to data compiled by Bloomberg.
"You need a very high level of conviction and deep insight into the investments to have a fund consisting of only two stocks," said Mohammad Hassan, head of hedge fund analysis at Eurekahedge Pte. "It would be quite challenging to attract institutional money, especially if they are familiar with a certain idiom involving eggs and a basket."
The Class A fund previously had a number of smaller positions, which were cut because of concerns about the scientific progress at the companies, said Diggle.
Diggle's Class A fund owns 17 percent of U.K.-based oncology and neurotherapy company Oxford BioMedica Plc, which has gained 58 percent this year after more than doubling last year. Its other holding is medical diagnostic research and development company Proteome Sciences Plc, which is up 15 percent this year, rebounding from a five-year slide that wiped out most of its market value.
While the fund has a long bias, Diggle has occasionally bet on declines in U.S. biotech firms. There's also some leverage in the fund, said Diggle, who started investing in some of these companies with his brother Martin Diggle more than a decade ago. Diggle added that he and his brother, who both share a fondness for poker, are "all in" on Oxford BioMedica.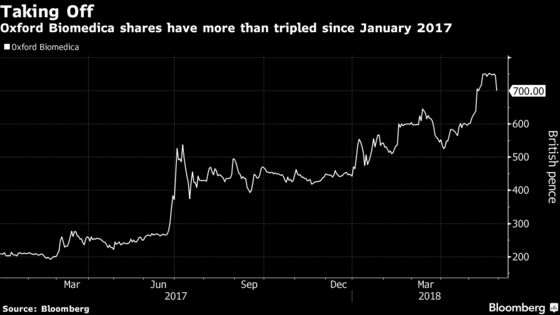 The Class B fund, which has returned 15 percent this year, holds 13 percent of Oxford BioDynamics Plc, which develops diagnostics and disease monitoring of cancer using epigenetics and has gained 35 percent since listing in December 2016. It also has a stake in unlisted Sibelius Natural Products, which is seeking to commercialize natural products that combat aging.
Bringing financial expertise to fledgling biotech companies helps create value because management consists mostly of scientists who focus on research and development, Diggle said.
"One of the things that's constantly surprised us is how these groups are very brilliant people, but run their companies in incredibly stupid ways," he said. "Because the focus among these people is always about science and fighting disease, and very little thought in small biotechs goes into the fact that they are businesses, and they need to be run as businesses."
Diggle, who co-founded a hedge fund he says made $2.7 billion in the depths of the global financial crisis, set up Vulpes in 2011 after liquidating volatility funds at his previous company, Artradis Fund Management, when price swings declined. A graduate of Oxford University, he worked at Lehman Brothers Holdings Inc. before co-founding Artradis in 2001.