Hong Kong Stock Jumps 63% in Final Minutes Before MSCI Inclusion
(Bloomberg) -- Shares of a department store owner soared by a record in the final minutes of Hong Kong trading on Thursday, the day before it was added to an MSCI Inc. index.
The spike turned Lifestyle International Holdings Ltd.'s 3 percent gain into a 63 percent gain in a matter of seconds. It closed up 43 percent, adding about $1.5 billion in value as index changes spurred one of the busiest trading days of the year in Hong Kong. The stock was added to the MSCI Hong Kong Small Cap Index after the close. Eudice Law, an external representative for Lifestyle International, said the company had no comment on its share-price movement.
About 6.9 million Lifestyle International shares changed hands on Thursday, more than 3.5 million of them in the final 30 minutes, according to data compiled by Bloomberg. That compared with 2.4 million on an average full day this year. Hong Kong Exchanges & Clearing Ltd. has not received any report of an erroneous trade relating to Lifestyle International, spokeswoman Lorraine Chan said by email. Erroneous trades can be corrected under certain circumstances, according to HKEX rules.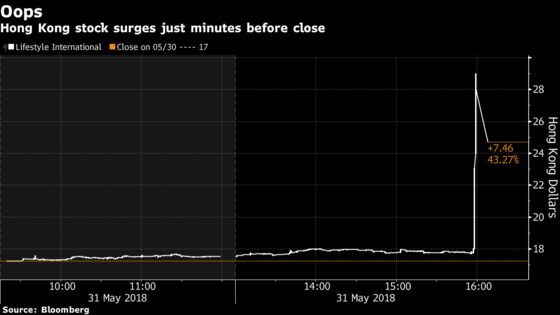 Index changes on the final day of the month made it a busy day for Hong Kong's equity traders, who handled more turnover on Thursday than on any day since a massive offering in Tencent Holdings Ltd. shares two months ago. Erroneous orders can be costly for anyone caught on the wrong side. In March, BNP Paribas Securities was held responsible for a mistake that knocked almost 10 percent off the value of Taiwan's third-biggest stock.