Defensive Stock Rotation Looms This Year, Morgan Stanley Says
(Bloomberg) -- One of Wall Street's biggest bears has a word of caution: the stock market's rotation into defensive stocks is coming later this year.
Cyclical sectors such as technology and financials that have enjoyed the love of investors amid a bull market rally will give way to defensive sectors, as investors assess the slowdown in economic growth and an aging bull market, Morgan Stanley strategists including Mike Wilson write in a note to clients.
That is not as easy as swapping tech stocks for real estate investment trusts (REIT) and utilities. The sectors that were historically defensive won't necessarily continue to be so in the future, the strategists said. Staples will become less defensive amid growing competition and rising fragmentation. Health stocks are experiencing pressures that may change their "defensiveness." REITs, with a few exceptions, aren't that defensive.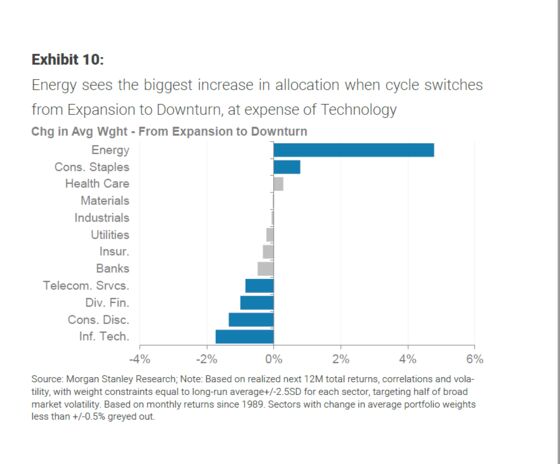 Which sectors fare better when things turn sour? Utilities, staples, telecom and healthcare have historically performed defensively during market stress. This will remain the case for utilities and telecoms, but not so for staples and healthcare stocks, where Morgan Stanley expects a diverging performance within the sectors' sub-industries. Staples and telecom also happen to be the year's worst performers, according to data compiled by Bloomberg.
Wilson sees the S&P 500 at 2,750 at the year-end, the most bearish call among more than 20 Wall Street strategists polled by Bloomberg.