China Stocks Offer Global Investors the Best Deal Since 2016
(Bloomberg) -- Foreign investors are about to get a bargain.
At least, that's the optimistic slant after Chinese equities slumped for the longest stretch since 2013, taking valuations back to two-year lows right before they feature on MSCI Inc. indexes from June 1. The Shanghai Composite Index rose 1.2 percent on Thursday, a small reprieve in a wipe-out that's slashed $1.2 trillion from the value of mainland stocks since a January peak.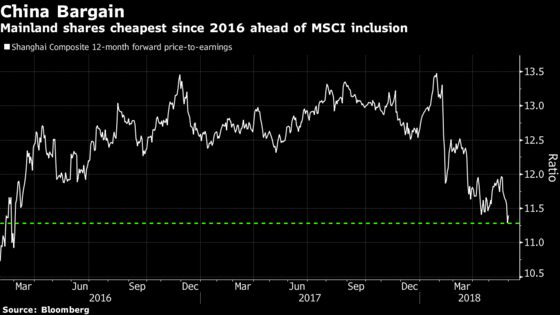 With investors citing everything from political chaos in Italy, an emerging-market sell-off, the U.S.-China trade spat and the prospect of tighter monetary policy as reasons to dump risk, China's big debut on the global stage comes at an uneasy time for markets. Recent declines have reversed a gap that just last week had put onshore shares on course for a rare win relative to their offshore counterparts.
Watch out for signs of intervention by the national team, as China's state funds are called, which often step in to stabilize the market during routs. Traders are eyeing the 3,000 level in the Shanghai gauge as the next line of support, one that hasn't been tested since September 2016.
International investors tracking MSCI's indexes will be forced to own a piece of the more than 200 companies that were picked for inclusion. While the index provider predicts inflows will eventually reach $35 billion, it's a drop in the ocean for a market that's worth more than 200 times that amount. A shares will represent less than half a percent of the MSCI Emerging Markets Index, though that weighting may increase faster than expected.