BofA Joins Citi in Pivot to S&P 500 Safety Amid Global Turmoil
(Bloomberg) -- Four months ago, the U.S. equity market was in the throes of its first correction since early 2016. Now strategists are starting to see it as one of the safest places in the world to invest.
Bank of America on Thursday became the latest to recommend that investors pummeled by turbulence from emerging markets to Europe raise holdings in U.S. stocks. Citing heightened political risk in Italy and economic slowdowns from Japan to Europe, strategists including James Barty advised clients to sell shares in the Nikkei-225 Stock Average and buy those in the S&P 500.
"The U.S. has better earnings revisions, stronger growth, a solid capex cycle and, post correction, a decent valuation at 16 forward PE," the strategists wrote in a research note. "It is a higher quality market."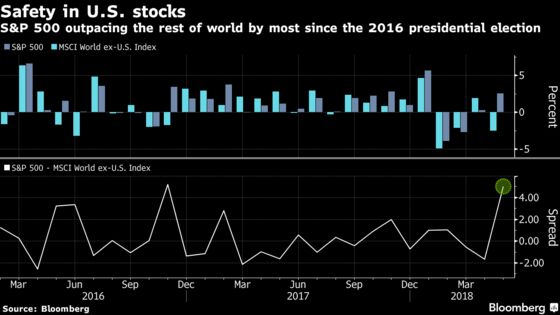 BofA joins Citigroup in embracing a market that in February was at the center of a global selloff. Then it was accelerating inflation and the threat of a U.S.-driven trade war that sent the S&P 500 to its first 10 percent correction in two years. While these risks are still lingering, the volatility outburst in assets from Italian bonds to Turkish lira is making the world's largest equity market attractive.
Last week, Citigroup strategists including Maximilian Moldasch lifted their rating on U.S. stocks to overweight from neutral, citing better-than-expected earnings and a potential acceleration in fund outflows from emerging markets.
American stocks are heading for their best month since President Donald Trump's election relative to the rest of word. The S&P 500 is up 2.6 percent in May, outpacing the MSCI World ex-U.S. Index by almost 5 percentage points, the most since November 2016.