A $142 Billion Fund Says Dollar Rally Done, Now EM Can Shine
(Bloomberg) -- The dollar's run is ending, and it's time to return to emerging market currencies after their two-month slump, according to AMP Capital Investors Ltd.
The advance in Treasury yields across the curve will probably stall from here, while U.S.-China trade tensions will turn from being dollar positive to negative, said Nader Naeimi, who runs AMP's $1.2 billion Dynamic Markets Fund and has begun shorting the greenback. In contrast, the selldown of emerging markets has resulted in a buying opportunity for some of their currencies given their healthy economies, he said.
"Step one was to close all our shorts entirely on our emerging market currencies -- we'd previously had shorts on the Turkish lira, Russian ruble, Thai baht, Mexican peso," Sydney-based Naeimi said. "Now we're getting ready to buy some EM currencies."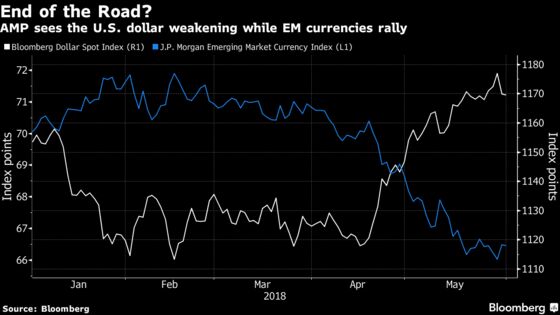 The $142 billion asset manager's shift comes as interest rate increases from Turkey to Indonesia and the Philippines slow capital outflows and support emerging market currencies, even as Italy's political turmoil dented investor confidence over the pace of hikes by the Federal Reserve. The Bloomberg Dollar Spot Index has advanced about 4 percent in the past two months, driven by higher Treasury yields.
Gains in two-year Treasury yields, which in May touched the highest since 2008, are probably limited given their spread above Fed Funds effective rate, according to AMP. Meanwhile, U.S. President Donald Trump's back-and-forth on Chinese trade has undermined his negotiating position, Naeimi said.
On Thursday, the Trump administration announced it's imposing steel and aluminum duties on the European Union, Canada and Mexico, after refusing their calls for permanent exemptions.
Asian currencies such as the Indian rupee and Indonesian rupiah, which have been sold off, are favored, according to Naeimi. Brazil's real will benefit from stronger commodity prices as the global economy continues to grow, he said.
Even Malaysia, where the opposition is in charge for the first time in six decades, is enticing. "There's political issues there, sure," Naeimi said. "But the ringgit's selloff is presenting opportunities."
AMP is not alone holding a bullish view on emerging markets. Morgan Stanley sees an opportunity for investors to go long the Korean won, rupiah, lira and Chilean peso, according to a note Thursday from strategists including Hans Redeker.
"The EM policy response to the USD rally, including rate hikes, fiscal measures, and intervention, has made EM FX relatively more attractive," they said.