Wall Street Has a Hot Options Trade for Sideways U.S. Stocks
(Bloomberg) -- There's an options trade that promises stellar returns if U.S. stocks continue to tread water. The catch: it's only managed to deliver that a handful of times over the past decade.
Welcome to the forgotten world of buy-writes: an investing style for traders who lack conviction on whether the second-longest bull market on record still has life. It combines long equity exposures with sales of call options to deliver potentially double-digit returns in the event index moves are subdued.
With the main U.S. stock benchmark churning near the midpoint of its trading range, now could be the strategy's moment in the sun. The Cboe S&P 500 BuyWrite Index is besting the equity gauge this year on a price basis, putting it on track for only its third year of outperformance over the past 10.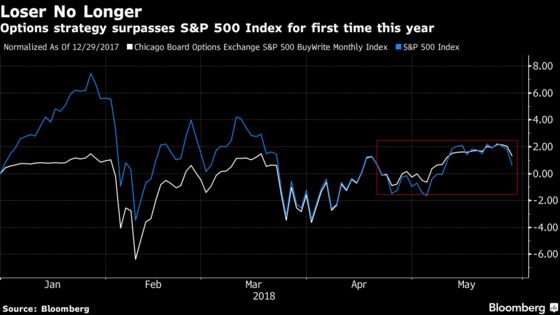 "The investor who is most interested in this fund is someone who thinks the market is going to chop around, go sideways, maybe see a slight pullback," said Ted Samulowitz, manager for the PowerShares S&P 500 BuyWrite Portfolio ETF at Invesco Advisers Inc.
Here's how it works: a portfolio of stocks is acquired, and call options are written on some or all of the shares. The fund earns income from selling the calls, in exchange for giving up the appreciation beyond the exercise price of the options. In other words, if stocks soar, holders won't participate in much, if any, of the gains.
It's an investing style recommended by UBS Group AG, which points out that money managers can trade "exposure to significant potential upside in equity markets for a smaller, but certain, extra return," according to a recent note.
While U.S.-listed passive products tracking the strategy have only seen tepid inflows at best so far this year, it offers a juicy income stream that can cushion against moderate market dips, proponents say.
The biggest ETF of its kind, the PowerShares S&P 500 BuyWrite Portfolio, collects around 125 basis points a month from selling options, according to Samulowitz. That's up from around 80 basis points a month at the end of last year, he said, as the trade has the somewhat paradoxical quality of benefiting from moderate bouts of volatility.
"It's just another nice thing about a buy-write strategy because as volatility goes up, we collect more premium," said Samulowitz.
The Cboe BuyWrite Index trailed the S&P 500 by 6 percentage points last year on a price basis, while the gap was 2.5 percentage points in 2016. But in down years for stocks, buy-writes can outperform, outpacing the return of the S&P 500 by about 6 percentage points in 2015. While the strategy is neck-and-neck with the S&P this year on a total return basis, it can be adjusted to allow for more or less participation in the market's upside.
The AdvisorShares STAR Global Buy-Write ETF, for instance, can sell out-of-the-money calls, which allows it to benefit to a certain extent from rising stocks, according to Rebecca Valdez, fund manager at Partnervest Advisory Services LLC, which manages the ETF.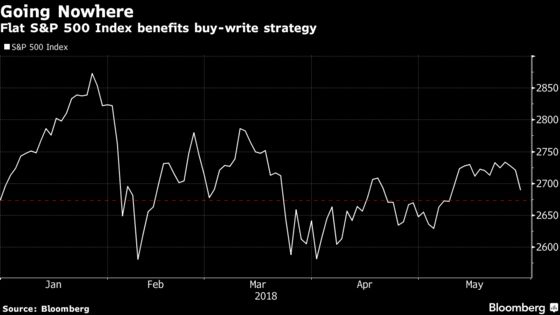 There's an argument that investors who seek yield and don't see much upside in stocks should put their money into bonds, but Samulowitz considers buy-write strategies as a substitute for high-yield debt in a portfolio.
"If credit spreads start to widen out, the equity cycle is probably not going to roll over for another six months, so the buy-write should continue to outperform," said Samulowitz.
While the trade can protect against moderate volatility, it isn't a panacea should another massive spike come along, according to Valdez. The Cboe index fell more than the S&P 500 when volatility more than doubled in early February amid a perfect storm of over-extended positions and monetary fears.
"You can't negate all of the volatility with a buy-write strategy, but you can definitely dampen it," said Valdez.