Treasury Volatility Reawakens With Biggest Jump Since 2016
(Bloomberg) -- Italian politics just did what a correction in U.S. equities and a breach of 3 percent on the U.S. 10-year yield could not: knocked the Treasury market out of its slumber.
Rates volatility has re-emerged, with Merrill Lynch's MOVE Index surging by 9 basis points on Tuesday. That's the biggest one-day advance since February 2016 for the gauge, which tracks the implied volatility in U.S. debt across the yield curve. Around that time, fears of a hard landing in China's economy sparked a retreat in risk assets that had traders placing non-trivial odds on the possibility of the Federal Reserve having to cut rates into negative territory.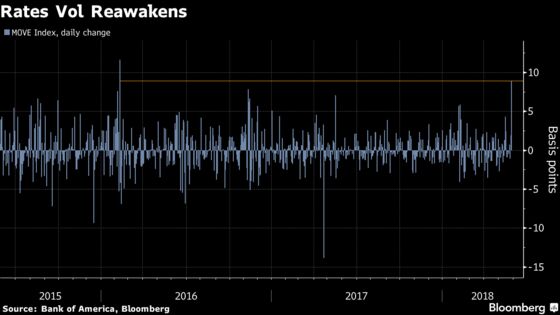 Treasury traders were indeed whipsawed on Tuesday, as the 10-year yield fell from above 2.9 percent to below 2.8 percent overnight. They then proceeded to retrace most of the move before the cash open in U.S. equities before tumbling yet again to end the session below 2.8 percent, their biggest drop since the aftermath of the U.K. Brexit referendum in June 2016.
Bond market volatility hasn't been sounding alarm bells in 2018 despite rocky rides for risk assets. February's record one-day jump in the Cboe Volatility Index, which tracks the implied swings in U.S. stocks, stayed confined to that asset class. Strategists took the lack of contagion as a positive signal, as it suggested an idiosyncratic shock had occurred rather than a shift in the fundamentals.
That rates volatility has jumped alongside its equity counterpart this time around may make investors more wary of holding leveraged positions and could also stress trading strategies that rely on implied and realized price swings to determine their exposure to the market.
And they're getting whipsawed again. The yield on the 10-year note rose 7 basis points to 2.85 percent as of 8:29 a.m. in New York.