The Yuan Is Suddenly in a Downdraft With Worst Losses in Asia
(Bloomberg) -- The yuan's resilience is dwindling fast.
China's currency halted a record-long rally versus a basket of peers last week, and has been losing ground to all major Asian peers since May 11. Declines continued Wednesday, with the yuan sliding to a four-month low.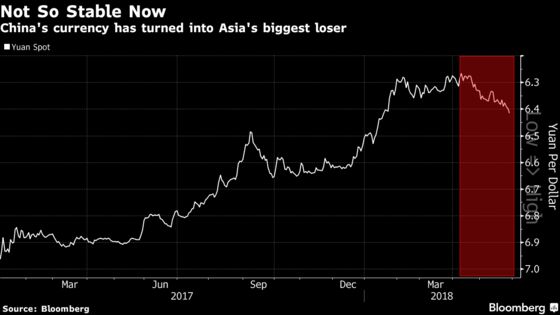 The question now is whether the pace of declines will stoke concern about outflows, especially as volatility emanates from Italy across financial markets. The People's Bank of China ended a weaker bias on Wednesday, setting the daily dollar-yuan fixing stronger than analysts had expected for the first time in 34 days.
Today's fixing shows that Beijing is trying to slow the pace of depreciation, said Dariusz Kowalczyk, senior emerging-market strategist at Credit Agricole SA in Hong Kong. "This is a strong signal to the market."
Even after the recent declines, the yuan's 1.3 percent gain against the greenback this year has made it the fourth-best performer among two dozen emerging currencies. That had prompted some to draw comparisons with 2014, when the currency's resilience amid a dollar surge led to negative export growth, manufacturing contraction, and eventually forced the central bank to do a one-off devaluation the following year. Analysts see little chance of such drastic action again given U.S. trade tensions, and say the PBOC's had to use other strategies instead to manage the currency.
China previously needed to take some steam off the yuan strength due to pressure on exporters, said Nathan Chow, senior economist at DBS Bank Hong Kong Ltd.
The yuan declined 0.2 percent to 6.4244 per dollar as of 5:10 p.m. in Shanghai. The Bloomberg replica of the CFETS RMB Index dropped for an eighth day, the longest losing streak since November.