The Oddest Things About China's $7.4 Trillion Stock Market
(Bloomberg) -- China may be somewhat of a mystery to the majority of international investors who will soon find themselves owning mainland shares for the first time.
The country's main bourse, opened in Shanghai in the early 1990s, is accessible only through a link with Hong Kong or using either of two licenses available to institutions like insurers or pension funds, both of which impose quotas and limitations. There will be a third route come Friday, when anyone tracking MSCI Inc.'s indexes will be forced to own a piece of the 234 companies that were picked for inclusion this month.
A gauge tracking Shanghai shares has taken quite a beating in the past six days, closing Wednesday at its lowest level since October 2016. While the bearish sentiment hardly bodes well for China's big debut, it does mean foreigners are getting in at the cheapest valuations in more than two years. Below are seven things that outsiders might find strange about China's $7.4 trillion equity market, the second-largest in the world.
Sometimes investors buy stocks just because they sound right. They piled into companies with "king" and "emperor" in their names after China's move to let President Xi Jinping stay in power indefinitely. A stock that sounds like "Trump Wins Big" jumped after the 2016 U.S. presidential election, while one that sounds like "Aunt Hillary" slumped. Even a Qingdao-based refrigerator and air conditioner maker whose Mandarin name sounds like Barack Obama rallied over six days following his 2008 victory.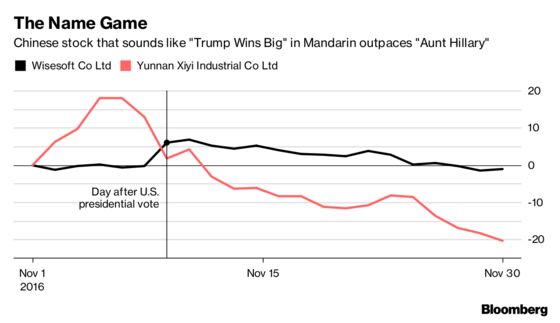 One of the best ways to get rich quick is to win a slice of an IPO, though you have to be pretty lucky -- the odds of getting an allocation are about 1-in-2,000. Stocks tend to surge on the first day of trading because pricing is kept artificially low. In 2018, all new listings have closed up by the 44 percent limit on their debut.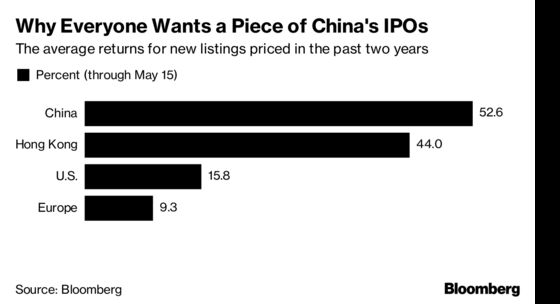 And as for companies, the queue to list is long: 310 candidates were still waiting for approval as of May 24. The median wait from getting the green light to pricing in China is 536 days, according to two-year data compiled by Bloomberg. That compares to just 32 days in the U.S. or 25 days in Japan.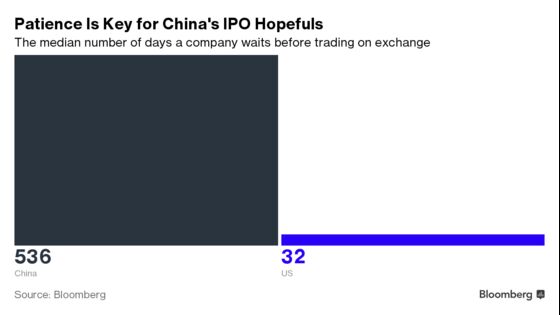 This is a good sign in mainland China. Unlike in other exchanges around the world, red means a share price is rising in Shanghai and Shenzhen, while green means it's falling. That's because it's seen as a lucky hue in Chinese culture, while green has negative connotations. The Tokyo Stock Exchange also uses auspicious red to denote stock advances.
Forget about the long term, it's a punter's market in China. Institutional investors are fairly absent from Shanghai, where individuals and day traders make up about 80 percent of the trading volume. Fueling the bubble and collapse in China's equities three years ago were millions of new investors, some of whom had never attended or graduated from high school.
Trading halts in China, a way for local companies to prevent their stocks from falling, happen more frequently than in other major markets. In March, the value of frozen shares on the country's exchanges exceeded $456 billion -- 3,150 times more than in the U.S., where suspensions are capped at 10 days.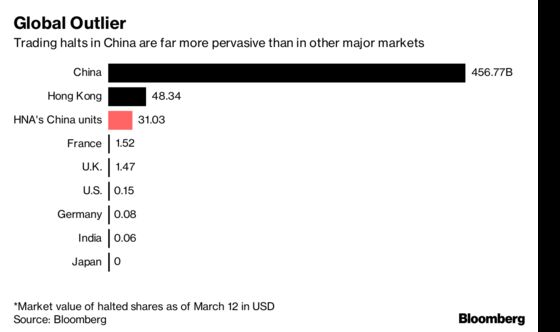 Watch out for signs of intervention by the national team, as China's state funds are called. They often step in to stabilize the market during routs, or sometimes just to lift sentiment ahead of important political events. Last year, China increased scrutiny of traders before the government was due to host representatives from more than 100 countries at a summit in Beijing. After the Shanghai Composite Index's recent rout, traders are looking at the 3,000 level as its the next key line of support.