OPEC Strife Likely at June Meeting, Ex-Algeria Minister Says
(Bloomberg) -- Saudi Arabia and Russia have a difficult month ahead, according to Nordine Ait-Laoussine, president of Geneva-based consultant Nalcosa and former energy minister of Algeria.
He says the de-facto leaders of the coalition that masterminded a recovery in oil prices have just three weeks to persuade their allies to change tack and boost output. The world's largest oil exporters made a policy U-turn last week by signaling a revival of production, a prospect that's driven down crude prices from the highest in three years.
Should crude continue to slide in the run up to the June meeting in Vienna of OPEC and its allies, the Saudis and Russians are going to find it harder to make their case, Ait-Laoussine said. That's going to put the alliance of 24 oil producers under strain, he said.
"The union demonstrated by OPEC and non-OPEC in the last 18 months is going to be tested in June," Ait-Laoussine said in a phone interview from Geneva. Although there seems to be no spat now among OPEC and its allies, "there may be a dispute down the road."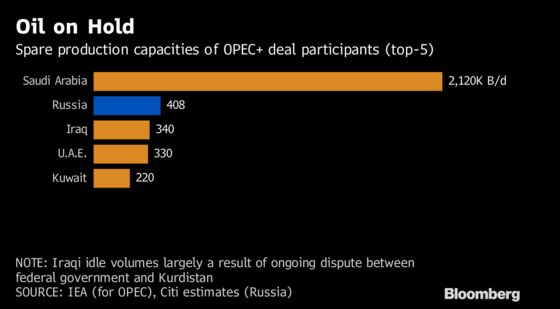 While Russia and Saudi Arabia could argue that addressing customer concerns about higher prices is good for everyone in the long term, they are among a select group of producers with the capacity to raise output. For those nations that can't, the near-term boon of higher prices is more important than the long-term effects of relaxing the deal, said Ait-Laoussine, who was Algeria's oil minister from 1991 to 1992.
"It's rational from the point of view of Iran, Venezuela, Nigeria, Libya, Algeria, Angola to oppose," he said, adding that Saudi Arabia and Russia will have to demonstrate that higher prices are "bad" for OPEC and other producers. "Can they do that within a few-hour meeting? It takes so much more than that."
Ecuador's Oil Minister Carlos Perez said on Tuesday that he will argue at the June meeting for keeping the oil production cuts in place. On Wednesday, OPEC Secretary General Mohammad Barkindo said all producers should join efforts to ensure lasting market stability, adding that work was needed to prevent a supply gap in future.
Benchmark Brent crude was at $76.01 a barrel at 1:53 p.m. in London, after touching $80.49 in intraday trade eight days ago.
Saudi Arabia and Russia have both said they won't take a decision on their own and that the opinions of all their partners will count. Still, their announcement last week that they will help compensate for the crisis in Venezuela and the potential impact of U.S. sanctions on Iranian crude exports raises questions over how achievable a consensus is.
"This is one of the elements which is probably going to appear in the discussion in June -- who are you to decide? We are supposed to be an organization," Ait-Laoussine said. "There is a tendency that Russia and Saudi Arabia just carry the ball by themselves."
Bob McNally, founder of consultant Rapidan Energy Group LLC in Washington and a former White House oil official, concurs, saying that ultimately Saudi Arabia and Russia are likely to pursue their own strategy. That could even mean a repeat of the "broken meeting" of June 2011, when then OPEC president Iran rebuffed Saudi Arabia's desire to increase output. The upshot was no official communique, but the kingdom signaled more supply was coming anyway, he said.
"The reality is Vienna Group members with spare production capacity will increase production if they wish and those without spare will have to live with it," McNally said in an email. "If Saudi Arabia and Russia want to increase production they will, and if Venezuela, Iran or others object, then the communique's language will be vague or silent on the prospective output boost."