Muted VIX Volume Will Make Cboe Slide Worse, Says JPMorgan
(Bloomberg) -- The Italian political imbroglio was a boon for haven assets like U.S. Treasuries on Tuesday. But it didn't spur a feeding frenzy in the instruments equity investors use to protect against stock swings.
The dearth of demand bodes ill for exchange operator Cboe Global Markets Inc., whose proprietary products include options and futures on the oft-vexed VIX index. The so-called "fear gauge" that tracks the 30-day implied volatility on the S&P 500 Index jumped 3.8 points on Tuesday, its fifth-largest jump of 2018. Yet volume in options linked to the VIX were meager.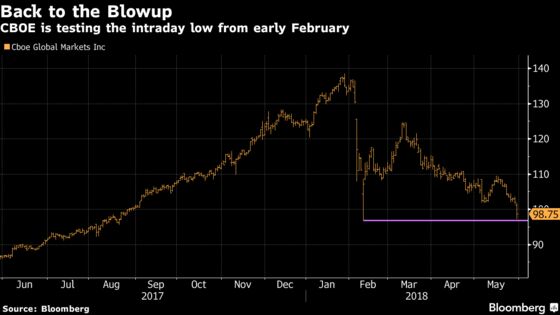 In cutting his price target on the stock to $94 -- the lowest estimate on Wall Street -- from $102, JPMorgan analyst Kenneth Worthington highlighted the underwhelming activity as cause to suspect further downside. Cboe traded at $99.63 at 2:06 p.m. in New York Wednesday, and earlier fell within $1 of its intraday low set Feb. 9 during the worst of the equity selloff.
"May 29 should have been better. While Futures had a good day, volume was 20 percent lower than days with commensurate VIX Index spikes in 2016/17," he writes. "VIX Options was noticeably worse, with volumes down 75 percent from days with VIX spikes in 2016/17."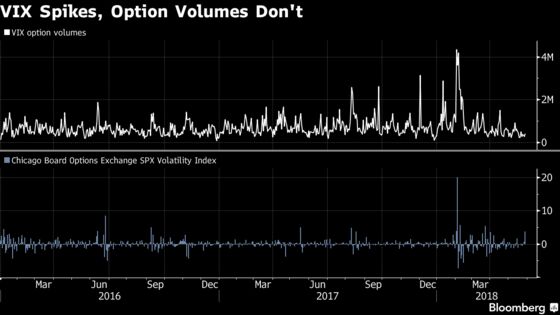 Worthington maintained his underweight rating on the stock. Shares of Cboe are down 19 percent year to date, compared to a 1 percent retreat for Intercontinental Exchange Inc., the analysts' preferred pick in the sector.
Chris Concannon, president and chief operating officer of Cboe, was asked about the JPMorgan report at a Deutsche Bank conference broadcast over the internet on Wednesday.
"I wish he would issue more reports because every time he issues a report we had a record volume day in the VIX futures," Concannon joked.
Concannon said that the volumes do fall in futures and options "when there's a resetting of the VIX level." He said that Worthington needs to recalculate his numbers because volume is up as a result of the shift, with a migration of activity into the company's S&P 500 options.
"We're pretty comfortable with the overall index volume," Concannon said.