Italy's a Blip in Global Equity Markets When Put in Perspective
(Bloomberg) -- For a country that makes up such a small slice of the global equity market, Italy's causing quite a commotion.
The prospect of snap elections that could act as a sort of referendum on whether Italy exits the euro has ratcheted up political uncertainty in the country -- sending equities around the world tumbling and the country's sovereign bonds surging Tuesday. The MSCI World Index ended Tuesday down 1.1 percent, the most in a month-and-a-half.
To some strategists, that seems like an overreaction.
"Political uncertainty in Italy, which represents 1 percent of the world equity market (if we round up), has raised investor fears about a potential material spillover or domino effect across all global equity markets including the U.S.," Chris Harvey, head of equity strategy at Wells Fargo Securities, wrote in a note Wednesday. "To put things in perspective, Apple, the largest stock in the global index, has a representation of 2.4%."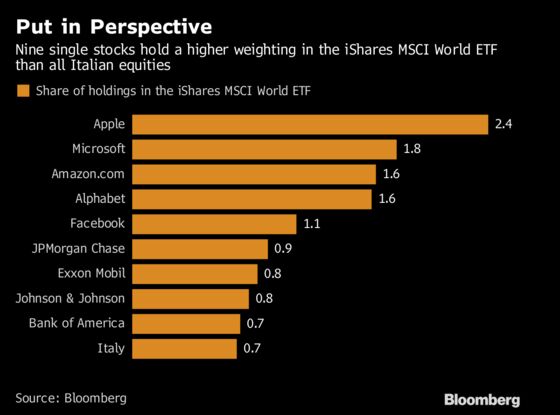 In fact, Italy accounts for 0.7 percent of the $540 million iShares MSCI World ETF, ticker URTH, which tracks the MSCI World Index. There are nine U.S.-listed stocks with larger weightings than the country as a whole in the fund, according to data compiled by Bloomberg.
"If Italy goes down, or they pull out of the euro, something catastrophic, we'd have ramifications across the continent of Europe, and it will spill into the U.S. and Asia as well," Harvey said by phone. "But the connection to Italy from a capital markets and economic point of view isn't all that great."
That doesn't mean the situation and potential fallout is benign. Italy is among the five largest economies in the euro region and one of the five biggest bond markets in the world.
"Yesterday was a painful day in our accounts," Tom Essaye, the former Merrill Lynch trader who founded the market newsletter "The Sevens Report," wrote to clients. "But for now, it is not something that is changing our medium- and longer-term outlook on U.S. stocks."