Italy Bonds Pass Auction Test in a Sign of Easing Market Jitters
(Bloomberg) -- Italy successfully sold five- and 10-year debt at an auction, bringing some relief to jittery markets following this week's meltdown in the nation's bonds amid a political crisis.
Both auctions were oversubscribed by investors, buoyed by large reinvestment flows from a bond maturing later this week. Still, the pricing of the longer-dated note showed signs of the pessimism that has battered the market this week. The average sale price on the 10-year bond was 25 cents below the secondary-market level just before the bidding deadline. A similar gauge for the five-year one was 24 cents higher.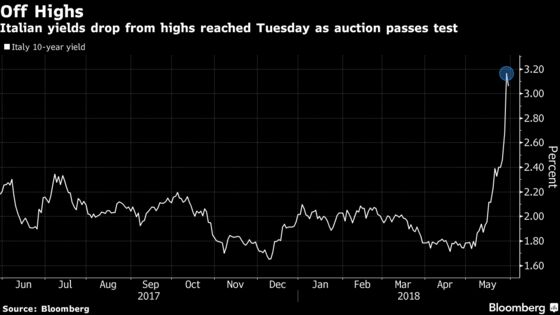 "You have an underbidding of 25 cents on the 2028 and an overbidding of 24 cents on the 2023 issue, so a mixed message," Marc-Henri Thoumin, a strategist at Societe Generale SA, said in emailed comments. "They have issued much less than the 4 billion euro target it seems, but it is not necessarily a big deal."
The debt office sold 1.82 billion euros worth of 2028 notes with a bid-to-cover ratio of 1.48, the highest this year. It issued 1.75 billion euros of 2023 ones with a bid-to-cover of 1.53. Demand at the auction may have been buoyed by reinvestments of more than 20 billion euros of cash flows from a bond redemption and coupon payments.
Italian securities held earlier gains following Tuesday's rout that saw 66 billion euros ($77 billion) wiped off in market value. In the secondary market, 10-year yields dropped 28 basis points to 2.88 percent as of 12:36 p.m. in London, having hit 3.44 percent Tuesday, the highest level since 2014. Those on five-year notes fell 83 basis points to 2.21 percent.
"Given the brutal concession that was built in for this sale yesterday and the fact that there are 20 billion euros of redemptions this week, it's hardly indicative of a rush to buy," said Marc Ostwald, a strategist at ADM Investor Services. "The political backdrop is still a thick fog."
New elections in Italy look increasingly likely following President Sergio Mattarella's veto of the Five Star Movement and the League's choice of finance minister over the weekend. Investors were spooked Tuesday by anti-European Union rhetoric coming to the forefront -- in particular risks surrounding the redenomination of Italian debt -- while dealers refused to give prices for some of the country's securities.
Meanwhile, credit-default swaps insuring Italian debt for five years fell from the highest level since 2013, signaling improvement in perceptions of credit quality. The contracts dropped 26 basis points to 263 basis points, according to CMA data.
"The results indicate that it takes much bigger market concerns to really dent Italian bond financing via the auction system," said Jan von Gerich, chief strategist at Nordea Bank AB.