Kremlin Critic Browder Let Go in Spain After Interpol Intervenes
(Bloomberg) -- Hermitage Capital Management founder Bill Browder was released after a brief detention by Spanish police on a Russian arrest warrant in what may be the latest move by Moscow to undermine his global campaign against the Kremlin over human-rights abuses.
Police let him go about an hour after his arrest Wednesday at his hotel in Madrid. Browder said on Twitter the Interpol general secretary had advised Spanish authorities to ignore the arrest warrant.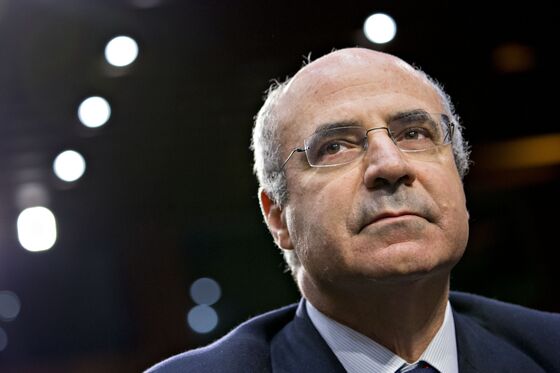 "Good news. Spanish National Police just released me after Interpol General Secretary in Lyon advised them not to honor the new Russian Interpol Red Notice," Browder said in a tweet. "This is the 6th time that Russia has abused Interpol in my case."
Browder has led a campaign to persuade countries to adopt sanctions on Russian officials believed to be responsible for human rights abuses after the death of lawyer Sergei Magnitsky in a Russian prison in 2009. Browder has said Magnitsky was mistreated and denied medical care while in prison, leading to his death.
The U.S. adopted the Magnitsky Act in 2012, imposing travel bans and sanctions on Russian officials seen as involved in the attorney's death. Russian President Vladimir Putin retaliated by signing a law that banned Americans from adopting children in Russia, as well as drawing up a list of U.S. officials barred from the country.
The Spanish national police said in a statement on Twitter that Browder remained in custody until Interpol in Spain verified that the arrest warrant issued by Russia for tax evasion was "invalid." In response, Interpol denied that a so-called "red notice" -- a request to arrest an individual pending extradition -- had been issued for Browder.
"There is not, and never has been, a red notice for Bill Browder," Interpol's headquarters tweeted. "Mr. Browder is not wanted via Interpol channels."
Browder's arrest in Madrid echoes a similar move last October by Russia, which put out a so-called "diffusion notice" on Interpol that bypassed the organization's headquarters and requested cooperation from other member states to arrest him. Browder, a British national since giving up his U.S. citizenship in 1998, was briefly barred from traveling until Interpol notified its members to ignore the notice.
This time, the notice appears to have gotten through to Madrid police, who arrested Browder just before an 11 a.m. meeting with a Spanish prosecutor about a money-laundering case tied to fraud uncovered by Magnitsky.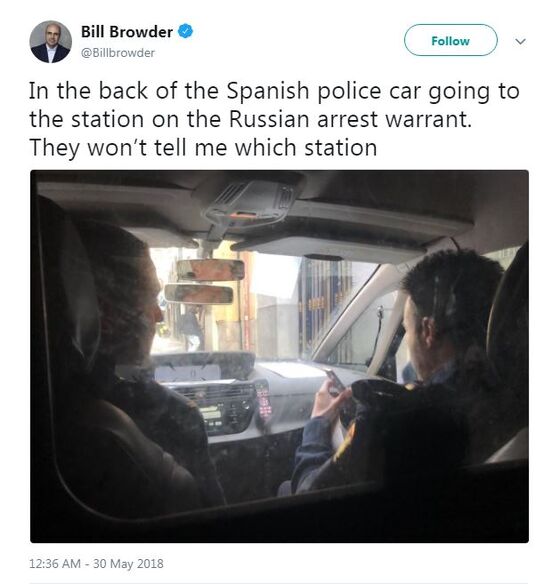 Last year, Russian officials accused Browder of being complicit in Magnitsky's death, a claim Browder called "crazy." Putin accused Browder of being a "serial killer." In December, a Moscow court found Browder guilty in absentia of tax evasion and sentenced him to nine years in jail as well as ordering the collection of 4.2 billion rubles ($70 million) in unpaid taxes. In March he testified before members of parliament in the U.K. saying he feared for his life after the poisoning of former Russian spy Sergei Skripal in a small English town.
"I'm at risk, at high risk," he said. "I don't spend my life living in fear, but I am definitely at risk."
The Russian Prosecutor General's Office said it hasn't yet received information about Browder's arrest, according to the state-run Tass news service.
Canada and the Baltic States have also adopted versions of the Magnitsky Act, while U.K. legislators have backed similar measures that will allow the government to freeze assets of human-rights violators.
Browder said in October that he'd received a letter from Interpol's Commission for the Control of Files, the body responsible for vetting data, informing him of its decision to dismiss Russia's request to put him on the organization's wanted list.
"The most important thing is that they informed all member states not to entertain any notices against me going forward from Russia," Browder said in an interview.