Hedge Fund's Tencent Trade Pays `Huge' on a Selloff, or a Rally
(Bloomberg) -- One hedge fund manager has a novel way to profit from shares of Tencent Holdings Ltd. -- whether they go up or down.
The trade, a brainchild of BFAM Partners (Hong Kong) founder Benjamin Fuchs, involves buying both Tencent shares and put options, which Fuchs said are mispricing the odds of a decline in the stock. The bet will pay off if Tencent swings more than 15 percent in either direction, and produce a major windfall if the shares lose more than 20 percent, he said.
The position could deliver a 30 percent return on capital over the next six months, since it involves putting down only a fraction of the stock's value upfront, Fuchs said on the sidelines of the annual Sohn Hong Kong Investment Conference, presented by the Karen Leung Foundation.
"If there is an unexpectedly large selloff, you are set up to make a huge amount of money," said Fuchs, who oversees more than $3.4 billion and pitched the trade to the conference on Wednesday.
China's largest social media and gaming company has seen its share price soar about 30-fold over the past decade, making it the world's seventh-largest company by market value. The stock has dropped more than 16 percent from a Jan. 23 peak, underperforming Hong Kong's benchmark Hang Seng Index, as investors braced for a squeeze from increased spending and investments as well as worries about a global rout in overvalued technology stocks.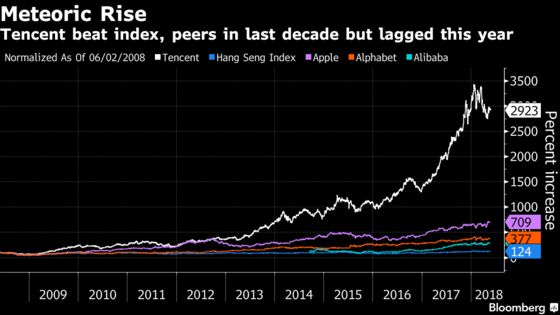 Fuchs looks for investment opportunities that emerge when ideas are so widely held by market participants that other potential outcomes become mispriced. The former head of the proprietary trading teams at Lehman Brothers Holdings Inc. and Nomura Holdings Inc. likes trades that can make money over a range of scenarios; he eschews bets on whether prices will go up or down.
In Tencent's case, investors who've made lots of money from the stock are willing to sell put options cheaply. Prices for the derivatives imply the market sees a very low probability of the shares falling, Fuchs said.
But several factors may be working against the stock, he said. Tencent, which reported $37 billion in 2017 revenue, will need to expand sales by 30 percent to 50 percent to surprise the market on the upside, according to Fuchs. Valuation is another barrier: Tencent is trading at 38 times estimated 2018 earnings, versus 21 times for Google Inc. parent Alphabet Inc. and Apple Inc.'s 16 times, data compiled by Bloomberg show.
A valuation more in line with those larger companies would imply a more than 30 percent decline in the stock, Fuchs said. Tighter regulations in China, a global retreat from tech stocks and political shocks such as a Korean war could also trigger declines, he added.
"Whenever a stock is heavily owned, the good fundamentals are widely known," Fuchs said on the sidelines of the conference. "It doesn't take much -- only need a few of the marginal buyers not to buy, some small random scare in the market -- and it could really send the stock down a lot."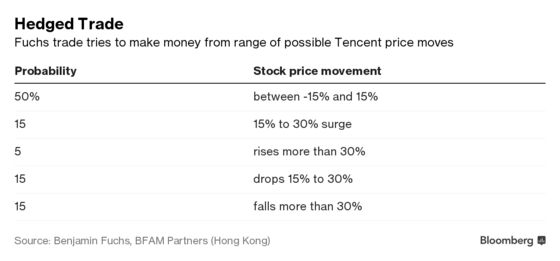 Here are some of the mechanics of Fuchs' trade:
Buy put options maturing in March 2019 that are 25 percent out of the money, and pair them with a long position in shares equivalent to 10 percent of the number of shares the options entitle holders to sell.
Pay about 1.5 percent of the notional value of shares to buy the options and 2 percent to buy the shares on margin.
Considering payoffs in different scenarios, the trade has an expected value of 1.06 percent. With the small payment upfront, that translates into a 30 percent return on capital over six months.
The trade could lose 0.7 percent on average if the stock price moves within 15 percent either way. It could earn an average 1 percent should the stock rise more than 15 percent. And it would produce the best returns in the event of a big decline: If the stock loses 30 percent, the average payoff would be 4 percent.