ETF Buyers Flock to Safety by Pouring Cash Into Treasury Funds
(Bloomberg) -- Italy's political turmoil has exchange-traded fund investors tracking U.S. Treasuries as they wait for the market to find its direction with yields and stock market volatility whipsawing.
Investors added more than $636 million to the Schwab U.S. TIPS ETF, ticker SCHP, on Tuesday, the most ever for the fund and more than triple the second-largest inflow since its inception. The fund tracks an index of U.S. Treasury inflation-protected securities that have at least one year remaining in maturity.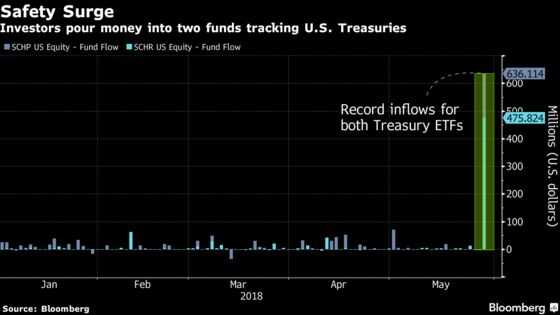 The Schwab Intermediate-Term U.S. Treasury ETF, ticker SCHR, took in over $475 million on Tuesday, also a record for the fund. It tracks an index of U.S. Treasury bonds with remaining maturity of three to 10 years.
"It's definitely a flight to safety," Aaron Clark, portfolio manager at Boston-based GW&K Investment Management, said by phone. "Some memories are fresh with Greece and the issues that Europe was having in general, and the U.S. is always a sort of quality trade in scenarios like that."
But with yields now climbing and volatility calming, it remains to be seen how ETF investors reacted to the reversal.