Crisis Flipside Sucks a Nordic Market Into a Negative Spiral
(Bloomberg) -- Denmark risks falling into a time loop in which recurring euro-zone crises leave the AAA-rated Nordic country stuck with negative interest rates.
The experimental monetary policy, once deemed semi-implausible, was first introduced in Denmark in 2012, when the euro zone last staggered through a debt crisis. After roughly six years of negative rates to defend the krone's peg to the euro, Denmark now holds the world record in life below zero. Nordea Bank AB says Danes probably won't see positive rates again until well into 2020.
Helge Pedersen, chief economist at Nordea in Copenhagen, says the dynamic reflects a "fundamental, substantial problem for the euro zone," where a lack of fiscal integration means the kind of crisis now unfolding is bound to repeat itself.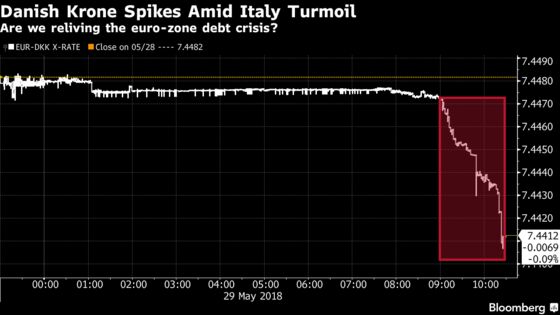 Failure to form a government in Italy, the epicenter of the latest bout of turmoil, means it "looks like there'll be a new election sooner rather than later," Pedersen said. "And then the political picture will be as bleak as today."
For Denmark, this spells relentless pressure on a central bank that's already tested the limits of monetary policy in defending its euro peg through the 2012 debt crisis, and then again during the 2015 Swiss franc crisis.
The krone strengthened the most since September 2016 at one point on Tuesday and Nordea Markets, a unit of Nordea Bank, says Denmark might now be forced to resume currency-market interventions for the first time since March 2017.
It was a "fairly dramatic move" in the krone, Jan Storup Nielsen, a senior analyst at Nordea Markets in Copenhagen, said by phone. "It has become a classic pattern that the Danish krone strengthens when there's uncertainty in Europe."
The Hedge Fund View
Nicolai Kjer Rasmussen, who manages the Nykredit Kobra hedge fund, says investors are piling into Denmark to protect themselves from the risk of a "breakup of the euro."
"I'm not saying that we're close" to a breakup. "I'm just saying that's the risk that the market is taking into consideration." 
Denmark is also home to the world's biggest covered-bond market, on which Danes rely to finance their mortgages. For them, the turmoil in Italy means lower borrowing costs at home. Danes can currently get fixed-rate 30-year home loans at 2 percent. But banks may soon offer 1.5 percent loans, as investors pour into the market and drive bond prices higher.
"It is hard to see what should trigger substantially higher rates at the moment," said Thomas Rasmussen, a senior fixed-income analyst at Jyske Markets. "I do believe that we will see relatively low rates for quite some time."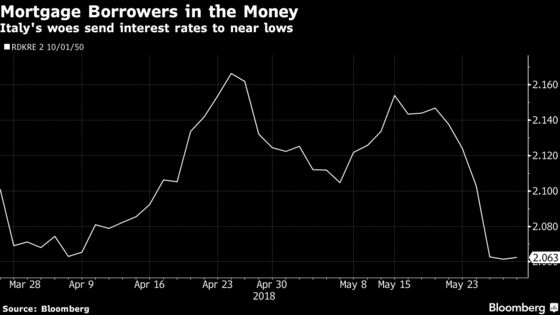 Jacob Skinhoj, chief analyst at Nykredit Markets, says safe-haven flows are just adding to demand that was already growing as foreign investors, especially Japanese pension funds, buy up Danish mortgage bonds. He says especially the longer-dated bonds are growing in popularity.
"Investors –- at least in callables –- need duration because callables are losing their duration as their prices are approaching par," Skinhoj said. To hit targets, "they therefore need to buy new bonds with higher duration."
Danske Bank is advising clients to go overweight Danish government bonds relative to German bunds, as the crisis in Italy adds to the effect of buybacks in Denmark. "Going long versus the core/semi-core" of the euro zone should be seen "as an insurance against further escalation of the crisis in Italy," Danske said in a client note.
Storup at Nordea Markets says he doesn't expect the central bank to start intervening until the krone strengthens beyond 7.44 to the euro. One euro cost as little as 7.4402 kroner on Tuesday.
At Danske Bank, senior analyst Jens Naervig Pedersen notes that the last time the central bank sold kroner, the trigger level was an exchange rate of 7.4330-7.4340.
"But it's difficult to rule anything out," Storup said. "Because the move is developing very fast."
Or as Pedersen put it, "we can prepare for a hot summer."