World's Worst-Performing Stocks Hit Level That Set Off Rally
(Bloomberg) -- The stellar rally in Vietnamese stocks came crashing down as the nation's benchmark index finally entered bear territory on Monday, ripping through its moving averages and becoming the biggest loser among global equity gauges for the quarter.
But while foreign investors rushed for the exit and panic selling spread across the market, the bulls pointed to strong economic and corporate earnings growth as reasons to remain optimistic.
On Wednesday, the VN Index reversed a slump of as much as 1.7 percent to rebound 2.2 percent at the close.
Here are some charts traders with a bullish disposition may ponder.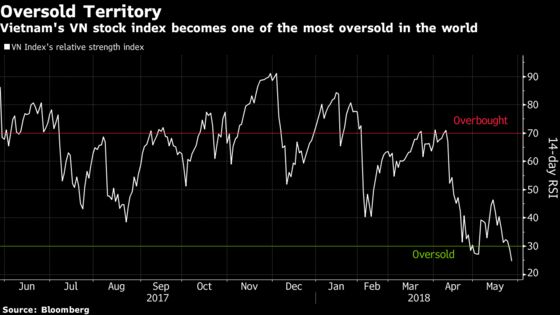 The plunge in Vietnamese equities sent the nation's benchmark stock gauge into oversold territory. The VN Index's relative strength index slipped below 25 as of Monday's close, one of the most extreme levels among national equity gauges worldwide. The last time the measure of market momentum reached such lows in January 2016, the VN Index rebounded 5 percent in the following month.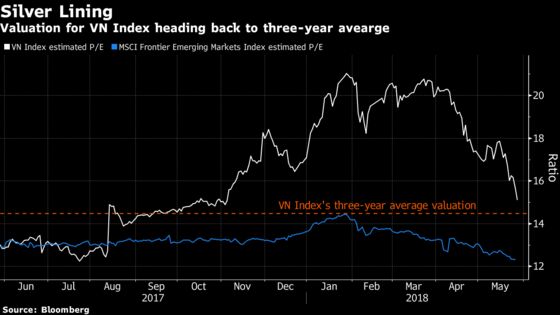 The VN Index's valuation had gone off the charts earlier this year. It reached 21 times estimated earnings in January, 45 percent higher than for the MSCI Frontier Emerging Markets Index. Since then, the multiple has slipped back to about 15, coming closer to its three-year average of 14.5. While still expensive relative to peers, the VN Index's valuation is now at its lowest level since December versus the MSCI gauge, and bulls are saying it's a buying opportunity.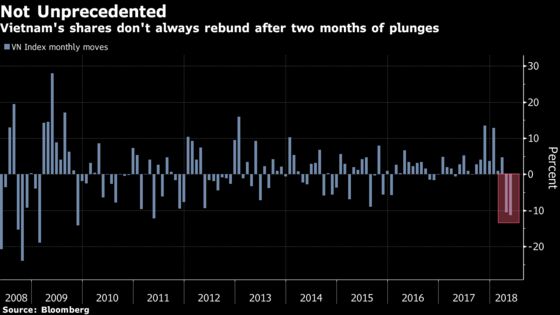 The VN Index was heading for an 11 percent May drop as of the last close, a second monthly decline of more than 10 percent. While the gauge has rarely posted two consecutive months of losses of that magnitude, it wouldn't be the first time. It happened in 2008 and early 2000s, and the market took at least a year to recover from the turmoil.