Trump Obsession Hands Win to Mexico's Slim on 'Failing' NY Times
(Bloomberg) -- Carlos Slim is cashing in on his New York Times Co. investment this year as the newspaper publisher's stock surged despite President Donald Trump's claims that it's "failing."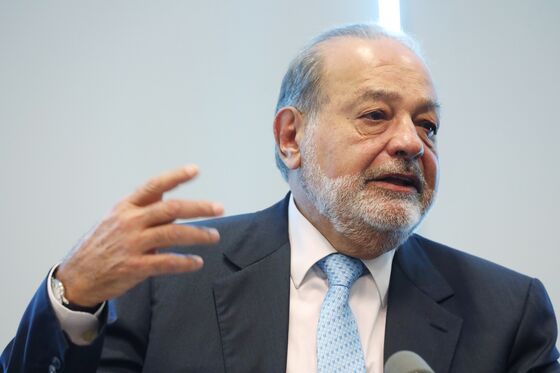 Shares of the company have more than doubled since Trump's November 2016 election, which has been a boon for the Mexican billionaire. Slim bailed out the Times with a $250 million loan in the wake of the financial crisis, when it actually was in danger of failing.
Slim, 78, began mapping out plans to unwind some of his holding in December and his Inversora Carso SA kicked off share sales worth about $150 million in February, filings show. An analysis of Slim's stock holdings, past transactions, earnings from the high-interest loan and dividends show Slim's investment returned at least 75 percent, or a pretax gain of more than $300 million.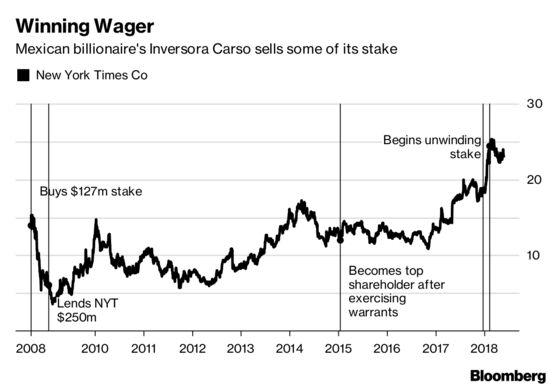 Slim, the world's seventh-richest man, initially invested $127 million for a 6 percent stake in the Times in 2008 and then loaned it $250 million as the shares approached a 26-year low in early 2009. That deal gave him warrants that he exercised in 2015, buying 7.95 million shares for a deeply discounted $6.36 apiece.
Slim is known for his savvy in buying assets at depressed prices. Arturo Elias Ayub, his son-in-law and spokesman, said the time was right to lock in gains. Is it failing?
"Lol," he said in an email. "Not at all. We still think it's a great company."
The Times' subscription revenue surpassed $1 billion in 2017. Both the publisher and Slim have said he's never tried to influence the paper's editorial content, which has been tough in its Trump-focused coverage.
"We are grateful for Mr. Slim's confidence and support of the company," a Times spokeswoman said in an email.
After the election, Slim dined with Trump at the president's Mar-a-Lago resort. Neither disclosed what they discussed, but Trump, whose fortune is about 1/20th the size of Slim's, said at the time that he had "a lovely dinner with a wonderful man." Slim is worth $57.8 billion, according to the Bloomberg Billionaires Index, a ranking of the world's 500 richest people.
A few weeks later, Slim praised Trump's negotiating skills while criticizing the president's proposed border wall, saying the U.S. can more effectively ensure security by supporting investment that creates jobs in Mexico.