Extreme Market Moves Keep Coming. It's a Problem for Risk Models
(Bloomberg) -- Rare market gyrations keep cropping up, presenting a challenge to the risk models at financial institutions.
From Italian debt to emerging-market currencies, extreme market moves are taking hold, raising the prospect of forced selling as portfolios adjust to maintain a steady level of risk.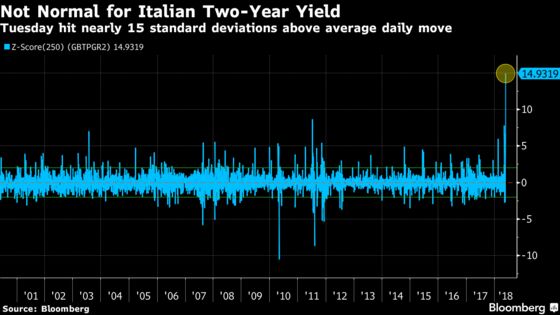 It's a potential wake-up call for traders lulled by the successive record lows seen across volatility gauges in 2017, and threatens to crimp risk-adjusted returns in unhedged portfolios.
"Things are changing," said Victor Haghani, founder and chief executive of Elm Partners Management LLC and a founding partner of Long-Term Capital Management LP. "Vigilance is important here. This is a big move in Italy, and big moves in isolated emerging markets."
The probability measures used from investment banks to algorithmic firms are more complicated than simple deviation calculations. But traditional value-at-risk (or VaR) models -- which provide a rough measure of expected losses in a given day -- help illustrate the extent to which an investor can be caught off guard.
Take the surge in yields on two-year Italian bonds to 2.8 percent from 0.9 percent on Tuesday. Spurred by Rome's political upheaval, to say the move fell on the fringes of the asset's normal distribution curve would be an understatement -- it was unprecedented.
That kind of gyration tests the outer edges of risk-management parameters. Using a historical simulation, the London-listed iShares Italy Government Bond ETF has a VaR of 0.5 percent within a 95 percent confidence. In English, that means losses are unlikely to be greater than 0.5 percent on any given day. On Tuesday, it dropped 4.9 percent.
Italian bonds began to stabilize on Wednesday, with two-year yields trading at 2.3 percent.
Meanwhile, developing markets have delivered more than their share of unlikely swings. The Turkish lira's 2.9 surge on Monday was more than three standard deviations outside the one-year average daily move, for example.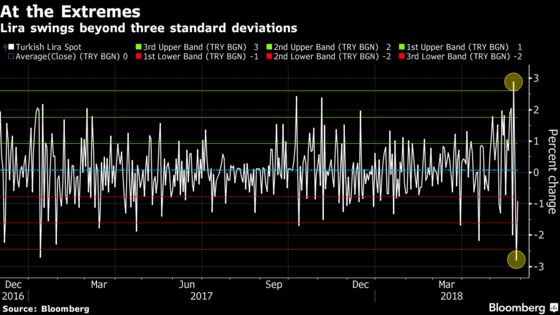 As investment in developing-nation assets has increased in the past few years, so has the likelihood of a VaR shock for overseas investors, according to analysts at Nomura Holdings.
"While the probability of such a shock remains low, it's important to consider the extent to which positioning and foreign ownership in some of these markets has grown substantially," said David Wagner, a strategist at the firm. "Our most recent estimates for both FX and geographical real money allocations in Mexico and Brazil reflect high, and growing, exposures."
The Brazilian real slumped 2.2 percent on Monday -- almost three standard deviations from the norm.
And it's not only peripheral European debt and volatile emerging currencies toying with risk models. Equity market declines also looked extreme on Tuesday. Amid European political tumult, Italy's benchmark stock gauge fell 2.7 percent, while Spain's main index dropped 2.5 percent.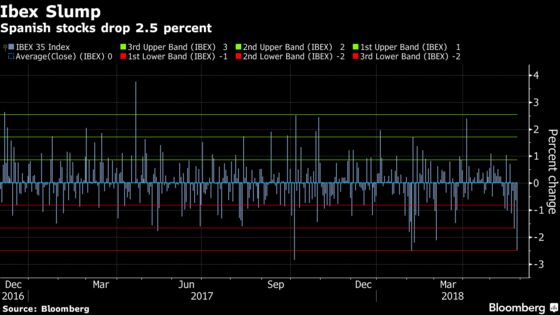 Both moves were nearly three standard deviations outside of the one-year average.